Last year I wrote an article on my views on Prom as a Freshman. This year, I'm doing the same with my new views as a Sophomore and more experience in High School. Last year, I gave more of a list of things that happened. This year, I'm going to explain more what I thought of Prom.
The dinner at Prom was pretty good. Since last year, I actually had broadened my taste so I didn't just eat buttered noodles, mashed potatoes, and crackers. However, the steak(?) prepared for us wasn't that great. It was not cooked very evenly or thoroughly enough, so I took one bite of it. It was half pink and half dark brown, so I just ate their pasta.
Dessert was great. They had 2 different types of cheese cakes. I tried the lemon cheese cake, and it was pretty good.
The dance started. The songs played were pretty typical, and much of it was just a combination of songs I heard at Prom last year, and a couple newer songs from Homecoming and Winterlude. There were maybe 2-3 songs I had never heard before, but they were very repetitive so I could at least figure out some way of dancing to it. (Usually by just doing random moves I had learned this year that nobody else understood.) They had at least 2 of the usual dance songs – the Cupid Shuffle, the Macarena. But that didn't mean we weren't able to do weird dances to most of them again.
We did a Conga line to some random song: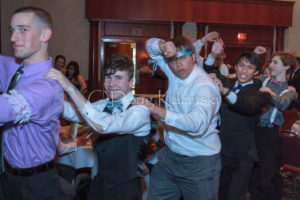 The snacks they had were pretty good. At first, I kept walking over to get cups of water. (It's what I do when I feel the need to do something, so I probably had 15 cups by the end of the night.) Then, kids started taking food from the snack line before it was even opened. It was eventually opened to everybody, and once it was, it was devoured pretty quickly. They had swedish fish – which I took the last of – and twix – which I tried to find every last bar of to take home with me afterwards. They also had pretzels, which I took out with me to the dance floor a couple times.
All in all, my sophomore year at prom was a large improvement over my freshman year. I can't wait until next year!