Study Abroad in High School
During the summer of 2016, I took part in a study abroad trip to Argentina. I lived in Buenos Aires with a host family for 9 weeks. This was an incredible experience, and if you'd like to know more about my experience and being an exchange student in high school, keep reading!
If you want more of a play-by-play, I wrote a blog while I was there. Click here to see my posts.
Before we begin I need to mention that everyone's experience is different. There were 9 other exchange students at Las Nieves (our school) These kids came from the US, Italy, and France and I can say with complete confidence that each of us had a different experience.
First, I want to talk what I did there. I would preface this by saying that it wasn't a vacation. The heart of the program isn't travel. It's about learning. But, never fear! Somehow the Argentines kept it fun. 😉 Essentially, I was a big, blonde, Yankee (that's what they called us) baby who understood nothing and stumbled through speech for 9 weeks. During the day, I gave blank stares and awkward smiles in high school with my host sister (she is 16, just like me). Then, we'd come home to consume our weight in milanesas (super popular, breaded beef or chicken) at lunch with my host mom and other sister (18). Afterwards, we would take approximately 3-hour siestas (the naps were really nice). Then in the evenings we hopped on the colectivo (bus), where I served up even more confounded looks, on our way to English class where I finally got to be the one laughing. Then, at (get this) around 9:30 PM, the family sat down and ate dinner together while watching Los Ricos No Piden Permiso. On some of the weekends, my family took me around Buenos Aires to see the major tourist attractions and famous spots. We also had 2 field trips with our school. Otherwise, we hung out at home.
Here are some pictures from our field trips: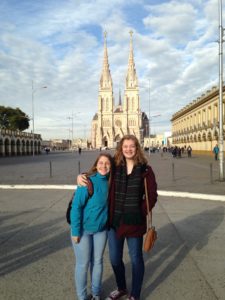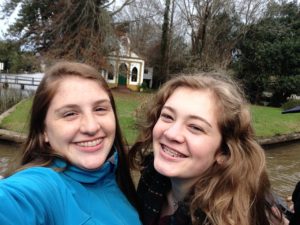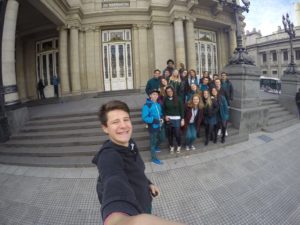 One week in the middle of July (winter vacation), my host family went on a ski trip to Mendoza, Argentina (about an 11-hour drive) but, sadly, I couldn't accompany them. For that week, I stayed with another Las Nieves family. Weirdly enough, the student they hosted during the summer of 2015 was from Milwaukee! It's a small world after all. They were also super nice and took me to other famous parts of the city with them.
The best part of the entire trip, apart from the Spanish I learned, was definitely going to school. School is a topic I think would be interesting here on the Saber Slate. Even though we had to wake up at 5:50 AM, school was my favorite part because being there is a completely different experience in Argentina. And it was just fun to meet new people and spend time with my fellow exchange students. Students and teachers are much closer, kids are so much louder and crazier, which makes it incredibly more fun. In Latin America (and actually most of the world) the teachers are the ones who change classrooms, not the students. As a result, the course (class) my host sister was a part of was amazingly close, more like a family than classmates. There are virtually no cliques at Las Nieves, and everybody knows everybody despite grade, age or personal interests. In the course, they were all best friends, and they were really welcoming and kind to Chris (the other exchange student in my class) and I. Additionally, after every class there are 15-minute breaks, during which students can buy sandwiches and candy. My favorite candies were the alfajores, special to Argentina. Also, at least at Las Nieves, there's comparatively very little homework, gym classes are separated by gender, and everyone wears a uniform.
Here is a picture of the class on my last day: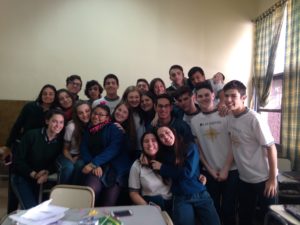 I want to say that this was an incredible experience. People often tell you that studying abroad changed their lives. I would agree but also disagree. I did change in some ways. I lost some of my inhibitions and I'm more independent now. But, overall, I'm still the same person. This was a great experience because it was fun and I left my comfort zone! But, let's make it clear that if you don't have this opportunity, it's not the end of the world. A lot of ex-foreign exchange students love to rant about how vital international travel in high school is. I acknowledge that I learned some invaluable lessons with AFS, but this trip is not an option for everyone, and that's OK. You don't need to go halfway around the world to learn new things, challenge yourself or meet interesting people. You can do that right here in Milwaukee, and even in Franklin.
That said, (and now I've successfully contradicted myself a dozen times) if you get the opportunity to go abroad, TAKE IT AND RUN. You will not regret it. It was the most fun and most exciting thing I've ever done.
Lastly, people always want to know how I went.
A lot of people have asked me if I went through school. I did not. There are actually many independent organizations out there that will take you abroad. I went to Argentina with an organization called the American Field Service, aka AFS. I heard about AFS through Girl Scouts years and years ago. I had tucked it in the back of my mind for a long time, and in 8th grade, I decided it was something I really wanted to do. AFS is the oldest and largest international student exchange program here, in the US, and in the world.
Here are all of the US students who went to Argentina last summer. (taken at our orientation):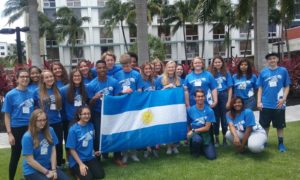 If you'd like to learn more about my trip and AFS, you could shoot me an email (Kathryn Harris), talk to me in person OR…
I'm doing a presentation about my summer in Gold Block on Monday, November 7th. Go to student services for a pass! I hope people will come and listen. I'll talk more about my host family and daily life in Argentina!