FHS Dance Team takes over the competition.
Congratulations to the Franklin High School dance team who had an incredible season!  The 6 seniors on the team are proud of all their accomplishments.
Dance is an intense sport to participate in.  The girls have to get all of the jumps, turns, and arm movements absolutely perfect and need to portray emotion in order to be successful.  The routines must be choreographed with the entire team giving their all to get the correct timing of movements.  Taylor Schmidt, a senior on the team says, "To be on the Franklin High School Varsity Dance Team, it takes dedication and hard work.  You have to commit yourself to the team and sacrifice your time.  We go through so much physical and emotional exhaustion throughout the year.  We have to push ourselves and challenge ourselves a lot, but in the end, it's always worth it."
The season started in May of 2015.  Throughout the summer, practices were held Tuesday and Thursday from 8 to 11.  Also, the team traveled to Altius gymnastics on Tuesdays for an hour and a half to work on their tumbling skills and to condition.  During the school year they practiced three times a week for two hours.  They also performed at football and basketball games on Fridays.  
The team attended a UDA (Universal Dancers Association) summer camp to gain new dance skills.  At the camp, there were five different classes;  lyrical, jazz, hip hop, pom, and kick, and each one of these categories had five levels.  Each girl was placed in a different category of a different level.  They wanted to get as much knowledge out of camp as possible.  The final day of camp was performance day.  Everyone showed their dance to the UDA staff hoping to earn a blue ribbon which is the highest scoring ribbon.  All of the girls on the team earned a blue ribbon at this event.  In the end, the dance team came out with 28 blue ribbons, one for each girl, first place in their pom routine, first place overall, and all of the seniors earned the All- American award.  The All American award goes to girls who show outstanding talent in their skills and extreme dedication to the sport and their team.  It is one of the highest awards and individual can receive in dance.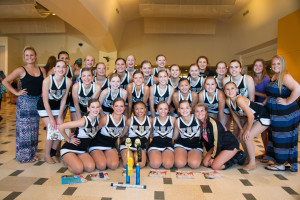 Soon after summer was over, the team started their competition season.  The amazing season started at the Hortonville Dance Invite.  The team received first place in pom and kick.  They also received grand champs.  This was a great way to start the season and motivated them to keep working hard. In De Pere, the team earned third place in pom and second place in kick.  In Ashwaubenon, the team earned second place in pom, second place in jazz, and sixth place in kick.  The next competition that they went to was held in Little Chute and the team earned third place in pom, second place in jazz, and second place in kick.  Soon after these local competitions, the Franklin Dance Team attended regionals in hopes of qualifying for state.  At this competition, they earned first place in both jazz and pom and qualified for state!  They were the back to back regional champions.  The team, looking to take home the gold, was excited for this news. The dancers traveled to La Crosse to perform at the La Crosse Civic Center for the state competition.  At state, the team earned third in pom and were the state champs for D1 jazz.   Megan Martin, a senior on the team says, "Being state champs is something we work hard for every year.  It is our ultimate goal, so achieving that makes all the sweat, conditioning, and late nights in the gym worth it.  It definitely was the toughest year yet with great competition, but that is what makes this senior year more memorable."  Their state champion title made them even more excited to attend Contest of Champions held in Florida.  During the first weekend in March, the Dance Team traveled to Orlando, Florida and competed at the ESPN Wide World of Sports.  The team competed both days in the medium pom, jazz, and kick division.  FHS Dancers received 5th place out of six teams in the kick division, 4th place out of 13 teams in the jazz division, and 2nd place out of 9 teams in the pom division.  The team had an outstanding finish to the season.  Sarah Walsh, a senior says, "We've become such a close knit team this year because our coach went through some rough times.  We were all there for each other and our coach during those times.  We hangout inside and out of practice and we're all so nice to each other and love each other's company.  My senior year was definitely my favorite because of this and our will to push ourselves to our fullest potential and that really showed when we ended up on top at state."  The team truly finished off on top.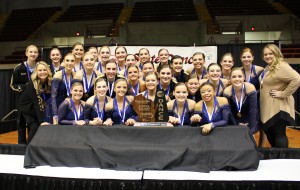 This season, there were a few opportunities to perform individual, duet, and trio routines.  Lindsey Toetz won 1st place in her solo and Grace Osgood won 2nd place in her solo at the Ashwaubenon competition.  Also at the Ashwaubenon competition, Maggie Ryan and Isabelle Pleva received 5th place in their duet, Courtney Heder and Taylor Schmidt received 6th place in their duet, Eliza Devereaux and Abby Pugh received 8th place in their duet, and Paige Davis, Lindsey Toetz, and Lexi Belongia received 2nd place in their trio.  
Congratulations to the team for an outstanding season!  Best of luck for the team next year!