Prom from a Freshman's Perspective
This past Saturday was the 2016 Junior and Senior Prom, and I (Aaron Stengel) was able to experience just how prom feels as a freshman. Here's a list of events and thoughts from prom night in chronological order. If you have any questions about how it went, just put it in the comments.
My mom and I left for pictures at a friend's house and when we got to the house, I wasn't very social at all because I barely knew some of the group.
At pictures, I was never called by my actual name because none of the parents taking photos actually knew who I was.
I left for prom with my "date" – my upperclassman friend bought me a ticket with money I had given her because her group decided I should go along.
Let's just say navigating Milwaukee with only teenagers in the car is pretty difficult. Many things happened on that trip.

I learned that Apple Maps uses horrible navigation systems when highways and streets are combined.

We passed Discovery World 3 or 4 times, I can't remember.
Fearless by Taylor Swift was a pretty ironic song to play twice in that situation.

A family friend who graduated spotted me, and he was disappointed when I told him my older brother wasn't coming.
The grand march commenced, and I started to get pretty bored with sitting around so long.
I had the most healthy meal I've ever eaten.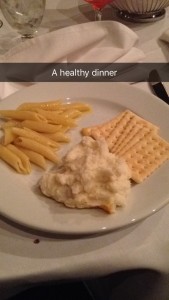 As we ate, people kept going up on stage and doing random things like dabbing. They kept getting kicked off the stage, even though none of what they were doing was inappropriate.
An upperclassmen friend of mine who I only knew through one class walked over to our table. It turned out he was pretty good friends with my group, and was originally going to sit with them. People are actually pretty friendly at prom.
The dance started. That dance, I did multiple things for the first time.

I dabbed for the first time.
I "whipped" for the first time.
I cringed about what I had just done for the first time.

The DJ was pretty average. Whenever he played a good song, he would stop it early just for his own reasons and not because there was any bad dancing – at least from my view during the dance.
The last song they played was a slow song. Just like at homecoming, my original group just stood in a circle rocking back and forth in a group.
We finally left for post-prom after the dance.
At post-prom, I got free pizza and a doughnut, and a Mountain Dew. That set me up to be awake for the rest of the night. And boy, was it a great night.
The Jungle Book wasn't that bad. However, my friend can pretty much make any movie both funny and full of errors. For example, at one point Mowgli, the main character, gets dozens of bee stings, but in the next scene -which takes place on the same day – he loses all of the stings.
I won two free bowls at Noodles, my favorite restaurant, for free.
Overally, Prom 2016 was eventful and enjoyable, even as a Freshman.