Chins Up, Smiles On; These Sabers Will Never Part. The Cheer Team Soars High Above The Competiton.
Congratulations to the Franklin Varsity Cheerleaders who have had the best season in school history!  The eight seniors on the team could not be more proud of the growth of Franklin cheerleading team over the past four years.
 Cheerleading is a sport like no other.  Months of hard work go into 2 minutes and 30 seconds of a fast paced, high energy routine.  This is no easy feat, but the Franklin High School cheerleaders were able to pull through to become a team and perform the routines of their lives.  Jaylin Flores, a sophomore on the team explains how much work they put in.  "Being a cheerleader requires a tremendous amount of physical strength.  Cheerleading utilizes all muscles including arms, legs, and back muscles.  It also requires high levels of endurance.  Not only do you have to constantly maintain your physicality, but a big part of cheer is the mental game.  You have to be dedicated and extremely hard working in order to achieve greatness in the sport."
 The season started on June 22nd 2015 when the team had their first practice.  Through the rest of the season, practices were held for two hours every Monday and Thursday.  In addition to the two hour practices on Thursdays, an extra hour is added before practice for tumbling classes.  Each girl is required to attend these classes to polish up and learn new skills.  Additionally, when school began, the team was required to attend weight room to condition.
 Their successful record-breaking season started all the way back in mid- July during a week-long UCA (Universal Cheerleaders Association) summer camp held in the Wisconsin Dells.  Franklin Varsity was joined by teams all around Wisconsin to learn new stunts, cheers, dances, and to perfect their jumps. "Camp was a great experience to really get to know our teammates.  We all had a blast learning new skills and doing different activities.  It was what set the base for our entire season and brought us closer together as friends and sisters." Allison Dwyer, a sophomore on the team explained. During camp every day, the instructors would hand out a giant inflatable banana to the team who displayed leadership and an overwhelming amount of spirit.  This is the "top banana" award and it is the most coveted award at camp.  Franklin High School cheerleaders were able to win the award for two days in a row giving them more motivation to be the best team out there.  The desire to keep up the hard work helped Franklin earn the leadership award.   Alyssa Minkley, a senior talks about the awards that they received.  "Earning the top banana and receiving the leadership award at UCA camp was a major honor to our team.  UCA staff members and other cheerleaders noticed our dedication, leadership, and overall love for cheer.  We built a bond with not only our sisters on our own team, but created an even larger cheer family from teams all over Wisconsin."  Franklin varsity won the best stunts award by the UCA instructors as well.  In addition, Nicole Fitzgerald, Julia Knecht, and Olivia Swarthout received the pin it forward award for showing great leadership, being motivated, and being kind to others.  Also at camp, Samantha Wegerbauer, Olivia Swarthout, and Natalie Bista earned their spot to be called an All American Cheerleader.  This is one of the highest awards that an individual can achieve in cheerleading.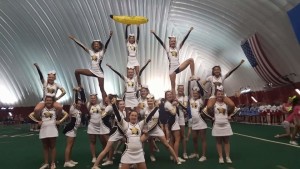 Football season rolled around and the team used the weekly games to practice skills that were going to be in their routine.  Eventually, football ended and the competition season began.  
Their competition season started in November at Menomonee Falls High School.  The FHS cheerleaders started off the season strong with a first place finish and a grand champion title.  Haley Johnston, a sophomore new to the program tells me that "Being a varsity cheerleader for the first time is amazing, our first competition went well and winning 1st and being grand champions motivated me even more to do my best this season.  Not just by learning new skills, but to be a better teammate."  A few weeks after this exciting win, the team went to the UCA Milwaukee Championship and received 1st place, allowing them qualify for nationals.  This was very exciting news since they have been getting farther and farther into the competition every year.  Later in the season, the team competed at Brookfield Central and got 1st place as well.  Soon, UCA nationals came up and the team traveled to Orlando, Florida to compete at ESPN Wide World of Sports Complex.  Franklin Varsity competed both Saturday and Sunday, going against 38 qualifying teams from all over the country in the small varsity non-tumble division.  The Franklin cheer team made school history by making it to finals for the first time ever!  But, not only did they just make it to finals, they placed 6th in the nation, a school record.  Stephanie Nielson describes how it feels to make it to finals.  "Making it to finals after two years of not qualifying was a dream come true.  We worked so hard as a team this whole season to get that amazing ending.  As a senior, seeing the team progress and grow has been an amazing experience."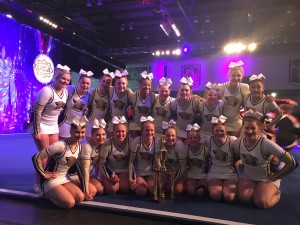 Two weeks after the cheerleaders came back, they competed at WACPC Regionals.  Franklin Varsity received 1st place and qualified to compete at state.   A week later, the team traveled to Madison to compete at the Alliant Energy Center for the state competition.  After months of hard work of putting their routine together, the cheerleaders felt ready to conquer the competition.  Franklin hit a perfect routine, and they placed 2nd out of 8 teams.  But state wasn't the end of their season.  In their final competition the next day, the whole team was put out on the mat to perform their last routine.  Receiving 2nd place and the best stunts award, the team finished their record-breaking, best season in school history.  Olivia Swarthout, a senior on the Varsity cheer team, explains how the team has grown throughout the season.  "Since the beginning of the year, we have focused on the basics, from clean stunts to positive attitudes we've grown so much as a team, we became a team that others sought out to be like and that is one of my proudest moments with this talented group of girls."  Through all the blood, sweat, and tears, the team pulled together to be one of the best teams in the state.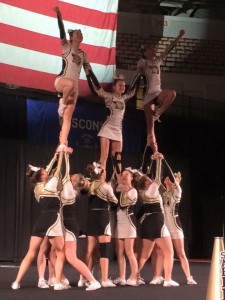 The cheerleaders were given an opportunity this year to compete in the stunt group division where four girls perform a one minute routine with only stunting.  Team "Franklin Gold" with Jaylin Flores, Alyssa Minkley, Nicole Fitzgerald, and Stephanie Nielson in it, performed at three competitions earning a 1st, 2nd, and 5th place.  Team "Franklin Black" with Samantha Wegerbauer, Natalie Bista, Olivia Swarthout, and Julia Knecht performed at 4 competitions.  They earned 1st place for three competitions and one 3rd place.  Team "Franklin White" with Jamie Biersach, Jessica Rohde, Haley Johnston, and Karissa Demotto, earned a 4th place and a 6th place.
Congratulations to the entire team for an amazing season.  Best of luck to the team next year!  Keep up the great work!
Here's a link to their semi-finals performance at nationals:
https://www.dropbox.com/s/a4d7rbfrmxxaopv/Video%20Feb%2006%2C%209%2034%2049%20PM.mov?dl=0