FHS Girl's Golf "Tee"rific Season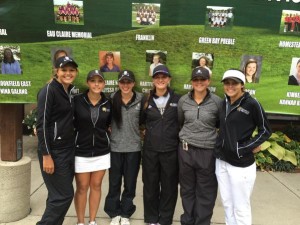 These girls are tee-rific hot shots that kicked putt this season! Who are they? None other than FHS's own golf team!  The 2015 season was by far their most successful, ending with Conference and Regional titles, beating the previous school girl's golf record, and making it to state for the first time in school history.
Just this past week, the girl's varsity team consisting of Sophomore Courtney Matschke, Juniors Hailey Smoot and Faith Krause, and Seniors Megan Hessil and Kristin Bowe went to the WIAA Girl's Golf State Tournament at the beautiful University Ridge; where the lady Badgers play for the University of Wisconsin Madison.  The two day tournament left them with a solid 5th place finish in the state, with all the Sabers scoring in the top 50 places.  For more specific information on scores and placing, visit the girl's golf section in the 10/16/2015 edition of the Saber Pride here.
Junior Hailey Smoot accredited much of their season's success to the team's will to improve, stating, "I think the major reason we excelled this year was the motivation we all had from last year when our season was cut short after we missed state by 5 strokes at sectionals." By reflecting and working on things they needed to improve on, they were able to push themselves to make school history.  However, the team did face some difficulties in making sure that they remained positive throughout the season, as Hailey Smoot said, "my teammates always talk about how they feel like they need to perform a certain way or if they had a bad hole, that they felt bad the rest of the round."  Smoot also said that they were able to overcome their mental struggles with the help of the team and their encouragement.  Their diversity of upper and lower classmen made no affect on their closeness with each other, as everyone was very supporting of one another.  They hope to return even stronger next year, as they think that this is only the beginning of something great.  I wish them the best fore their future!