Franklin's New Kayla's Krew Playground
On Friday October 9th the Franklin organization named Kayla's Krew finally, after years of fundraising and preparation, celebrated the opening of their first playground. If you haven't of heard of them, Kayla's Krew is a local non-profit dedicated to building an all-inclusive, all-accessible playground for children and families of all ages and abilities. Their vision was that of a playground that served as a place for the entire community to come together and embrace all abilities.
Over the past few weeks of the playground's construction, many of our own Franklin High School students have gotten involved with volunteering and supporting the cause. This video of a TMJ4 news report on the playground features our very own football team's volunteer efforts in the construction:
[embedyt] http://www.youtube.com/watch?v=Eg_joDvtOLs[/embedyt]
The brand-new playground is located at the Franklin Woods Nature Center at 3723 West Puetz Rd and is magnificent, featuring many tall, intricate, wooden towers, colorful signs, an awesome electronic wheelchair swing, and much more.
Here are some pictures: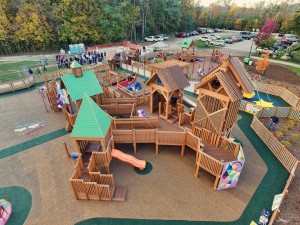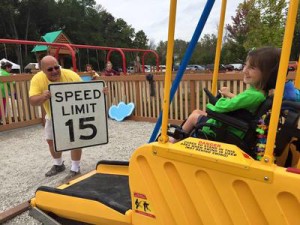 While the playground was still in progress: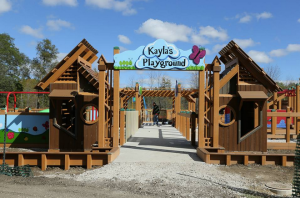 I encourage you all to go and check out this beautiful playground with an even more beautiful meaning behind it!
To learn more about Kayla's Krew, check out:
Watch the 'inspiration behind it all' and the story behind Kayla: https://vimeo.com/104436383
Their Website: http://www.kaylaskrew.org/
Their Facebook Page: https://www.facebook.com/kaylaskrew814/timeline