The events of the 1960s changed the course of history.  Hundreds of Americans stood up for the rights of all citizens – taking the first step in the struggle against racism that continues to this day.  But so many of us, at least those who have taken a US History course, only know the version of the story as it appears in that textbook you fell asleep reading the other night.  For the next few days, students at FHS have been given the opportunity to see the textbook pages from a whole new perspective through the "Freedom Summer" exhibit located in the upstairs commons.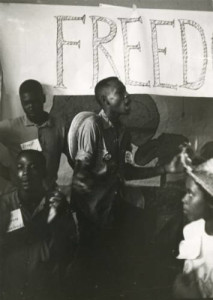 The Freedom Summer traveling exhibit, hosted by the Wisconsin Historical Society, makes stops at high schools all over Wisconsin throughout the year.  Last summer, the school received an invitation to host the exhibit for a week before it traveled to another school and history teachers jumped at the opportunity.  According to FHS history teacher Mrs. Thoen, this exhibit takes students through the summer of 1964 chronologically, "starting from the origins of the movement all the way to what changed," and highlights the way that participants worked to raise awareness for the problem of African American voter registration in the South.  It also focuses on the aftermath of the movement – both the tragic violence that stemmed from it and the resulting legislation that helped pave the way for a more socially progressive nation.
The purpose of this exhibit is to expose students and the community to a monumental era of American history, but also to help them make connections to more modern problems, something that Mrs. Thoen says is hugely important.
"Even though we made monumental strides through the 1960s and even throughout history, we still have tensions in the country that need to be addressed, not only for African Americans – but for all citizens.  If we're going to promote equal rights as part of our liberties, prove it."  By helping kids understand the connections between historical events and our modern issues, Mrs. Thoen and the other history teachers hope to prepare them to do just that.
A few history classes will be working with the exhibit over the next few days, but other students are invited to view it now through Memorial Day.  Though it may seem like just an obstacle while walking to class, Mrs. Thoen stresses the importance of being aware of this movement, especially for high school students.  "A lot of the people involved in Freedom Summer were college-based students," making high school a prime time to develop an understanding of the problems that face our society.  After all, any change we wish to see must start with us.
(All images in this article are taken from the Wisconsin Historical Society's Digital Collection)