The Beauty and the Beast – Musical Review
By Fiona Nutbeam
Last week's musical, the popular Disney's The Beauty and the Beast, was arguably one of the greatest musical performances ever at FHS as well as a sellout. Prominent characters throughout included: Belle (Jamie Mercado), the Beast (Sean Luangpreseuth), Gaston (Sam Pike), Lumiere (Max Honzik), and Cogsworth (Jack Mason).  Additional cast included Maurice (Joe Frisch), Lefou (Brandon Heath), Mrs. Potts (Simrah Awan), Chip (Allison Dwyer), Prince (Parker Rehm), Monsieur d'Arque (Cameron Mc Fadden), and many more spectacular members of the cast.
The musical kicked off with an introduction of how the Beast came to be. This opening narrative captured the audience's attention with dramatic lighting and expressive acting, which made up for the slight lack of clarity.  Similar to the Disney retelling, it provided a much-needed set-up that was important to understanding the overall story.
Another outstanding aspect of the show was the enchanting music from the pit orchestra – led by director Allison Umhoefer.  The orchestral performance blended smoothly with the acting and singing to heighten the emotion already existing on stage. While not overpowering, some scenes may have benefitted from heightened volume and dynamic contrast.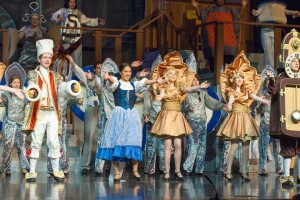 Of course, none of the performance would have been possible without the hard work of the PAC stage crew. Excellent lighting and transitions made everything go smoothly.  At the same time, beautifully detailed backdrops with smooth transitions, as well as accurate and tasteful costumes never seen before at FHS, enhanced character and understanding of the story that may have otherwise struggled.
The level of acting throughout the performance was impressive, and allowed the audience to follow the delightful storyline. What was especially impressive was the actors' and actresses' skilled voices and exaggerated accents that added character and humor, and were most evident in such characters as Lumiere (Max Honzik), Babette (Hailey Hentz), Cogsworth (Jack Mason), Mrs. Potts (Simrah Awan), Lefou (Brandon Heath), and Madame de la Grande Bouche (Larissa Stenglein).  At times, it was hard to hear some of the less prominent characters, especially in the back rows, at no fault of their own.  However, the energized acting overcame the slight difficulty with low volume keeping the audience's attention throughout. A lack of variation in voice or sincerity occurred occasionally, but did not change the overall positive experience. This year's successful performance of The Beauty and The Beast established a high standard of performance for years to come.