Girls: 7 hours before your date picks you up…
1. Shower.
2. Towel dry, air dry, and blow dry hair.
3. Put on the dress that you spent countless hours picking out and then purchasing after making sure your entire outfit was perfect and no one would be wearing the same one as you.
4. Arrange hair to your preference using as much mousse, wax, glitter, spray, etc. as needed.
5. Make up.
6. Accessorize.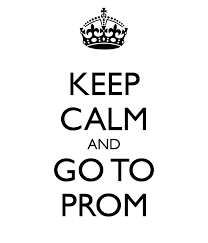 7. Review and perhaps repeat steps 4-6 if not done perfectly.
8. Put your game face on.
9. When ready, meet up with friends at designated location.
10. Compare dresses, dates, plans, etc.
11. Go somewhere you can be seen, like the city, an art museum, the pier, a park, etc. with your friends.
12. Return to designated location.
13. Review appearance and increase enthusiasm level to maximum.
14. If step 13 returns with inadequate results, review and perhaps repeat steps 9-12.
15. Take turns boosting each others' confidence.
16. If step 15 returns with inadequate results, review and perhaps repeat step 13.
17. Repeat step 7.
18. Wait with friends for your dates to pick you up.
Guys: 10 minutes before going to pick up your date…
1. Shower…maybe.
2. Put on your rent-a-tux.
3. Walk out the door.
(NOTICE: THIS IS A SATIRE! NONE OF THESE VIEWS REFLECT THOSE OF THE AUTHOR OR THE SABER SLATE AND SHOULD NOT BE TAKEN WITH OFFENSE)