Mara Matovich goes to Washington
This past March, Franklin High School Senior Mara Matovich had the privilege to represent Wisconsin in the United States Senate Youth Program. The Senate Youth Program, which was established back in 1962, is a "unique educational experience for outstanding high school students interested in pursuing careers in public service." Mara heard of this program after her time at the Wisconsin State Senate Scholars Program.
This program is entirely funded and sponsored by the Hearst Foundation. The Hearst Foundation is a national organization that funds programs that help to ensure that people of all backgrounds in the United States have the opportunity to build healthy, productive, and inspiring lives. In addition to attending the program, each delegate was awarded a $5,000 College Scholarship thanks to the Hearst Foundation.
Mara was chosen as a representative after a competitive application process in which only two delegates were chosen from each state.  After writing a series of essays and conducting a phone interview, Mara was chosen alongside Vishal Narayanaswamy to represent Wisconsin. There were a total of 104 delegates in the program (two from each State, two from D.C, and two from the Department of Defense Education Activity).
Mara, who is planning on double majoring in Business and Political Science, was ecstatic to have the opportunity to learn more about our Government and ways to get involved with the government through the program.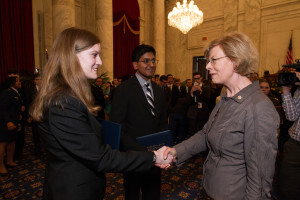 Mara arrived in Washington D.C. on March 7th with a full agenda to experience before her departure on March 14th.  Each day included a variety of guest speaker talks and tours of government buildings and monuments.  Oh yeah, and she also met tons of cool important people, including President Obama, Jay Johnson (Secretary of Homeland Security), and both Wisconsin Senators.  Her favorite part, however, was not going to the elaborate dinners or seeing the White House, but the phenomenal guest speakers including the Swedish Ambassador, Journalist Major Garret, and various others.  Mara noted that after listening to Julie Adams (Senate Secretary who interacts with all of the senators and works as a nonpartisan), she realized how one can be very involved in government without actually becoming a politician – which is usually what comes to mind when someone says they work for the government. This experience has changed her outlook for the future, because now she is confident that she wants to get involved in the government in some way – but not as a politician.  There are many options for her now to experience thanks to this great program!
Mara Matovich is the head of the Saber Slate Online Newspaper,  editor of the FHS Yearbook, a member of the FHS Girls Lacrosse team, and Vice President of FHS's National Honor Society.  She has also been accepted into the College of Letters and Sciences Honors Program at the University of Wisconsin Madison. Congrats Mara!
PS: No this article isn't biased.