To Alabama and Beyond: An FHS Senior's Astronomical Achievements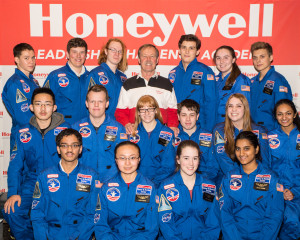 Who among us didn't gaze up at the starry night sky as a little kid and dream of being an astronaut?  Last month Franklin High School senior Elizabeth Zingsheim got a chance to experience that dream firsthand when she participated in the Honeywell Leadership Challenge Academy in Huntsville, Alabama.  This international "space camp" accepted only 300 applicants worldwide, and Elizabeth is the first person from Franklin to participate in the program.
I got a chance to sit down with Elizabeth and ask her some questions about her experience.
How did you learn about this opportunity?
Two years ago, my dad sent me a link about this program, and I intended on applying when I was old enough. It is sponsored by Honeywell for children of employees, and only 16-18 year olds can apply.
What did the application process involve?  How did you feel when you got the news?
The application included standard personal questions, a report of grades, and two essays.   Getting the news was incredible but also surreal. I was extremely excited!
Alright, now the fun stuff – what did you do at the camp?
Well, I basically did everything. We spent a fair amount of time getting to know one another, as teamwork is difficult if you are not familiar with each other. In my sub-group, there were 16 people from 12 different countries. We did basic leadership challenges to begin with, but then it got interesting. We had an engineering challenge where we had to build a heat shield with a provided amount of parts, which was then tested with a blowtorch. As with at school, we had some literacy activities, which resulted in very interesting debates. Having viewpoints from all over the world really added depth to the arguments.
Did you get to fly a spaceship?!

Not quite.  We, of course, went through astronaut training, including a ride on the multi-axis trainer and a simulator that showed what it would be like to walk on the moon. Afterwards, we had a mock shuttle mission, where each of us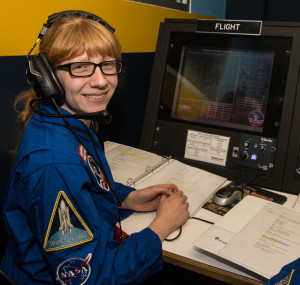 had a specific role, either in mission control, on the space shuttle, or on the 'International Space Station'. I was the flight director, the leader of mission control, and in that exercise we learned the true importance of all members ofa team working together. We actually 'left' our astronauts behind when we landed, so clearly we still had work to do. The simulation was very cool though, and it demonstrated what it would be like to go through an actual mission. Another simulation that we were able to experience was fighter pilot training. All of us went in individual simulators, and were assigned a military mission to complete as a team. We also did an Incident Command activity that put us in the positions of the people who must respond to emergencies, such as a tornado and other natural disasters. It was incredibly intense, as our actions had a direct result on how many people "survived" and how much additional damage was caused.
Did you meet any famous people?
There were many speakers that came to talk to us, including Robert "Hoot" Gibson, "the man who has flown everything". He was a Navy pilot, and a space shuttle commander on five missions.
What else did you do? Besides science stuff.
Apart from the scientific activities, we had the opportunity to participate in various social events, such as karaoke and a dance after our graduation from the camp. One of the best, unplanned parts of the week was when it snowed 8" (the second most that it has ever snowed in Huntsville), and we had a massive, international snowball fight. It was an incredibly unexpected, but exciting  experience.
What was it like working with people from around the world who share your passion for science?
Working with people from around the world was  incredible. There was such a wide variety of cultures mixed together, and it was commonplace to hear multiple languages being spoken around my table as we ate meals together. Since most of the activities involved leadership and teamwork, it was interesting to hear all of the different views and perspectives from outside of the United States. It was a unique and wholesome experience.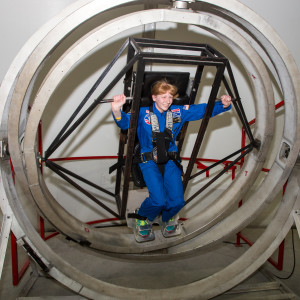 Space?

Spaaaaaaaaaaaaaace.
That's one small step for Elizabeth, but a giant leap for stargazers everywhere.