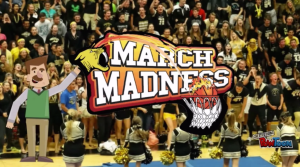 Well folks, it is that time of year again. It's March and while the NCAA is focused on the actual madness of college basketball, Franklin is getting in on the fun for the first time with our own FHS March Madness.
While there is a lot going on with this event here is the basic information you need to know: The finale ("main event") will be Wednesday March 25th at 6pm. The main event will showcase a variety of games and activities (like raffles, video games, arcade games, t-shirt tosses and more). This will all take place in the gym and students, families and friends are welcome to attend.
The concept of March Madness is centered around the idea of the basketball tournament, similar to the actual NCAA's March Madness. Students have already formed boys and girls teams and over the course of March 23rd-25th the teams will be reduced to the final four for both divisions. The champs for both the boy and girl divisions will then verse their respective male or female faculty team. While games are being held on the 23rd, 24th and 25th, the main games, like the NCAA championships, will be held at the main event at 6pm on the 25th. Just remember that there are other non-basketball events going on during all lunch hours and at the games, like raffles and pop-a-shot, and all of the money goes towards Relay for Life. Relay for Life is an organization that raises money to fight cancer.
Remember to participate in these March Madness Spirit Days:
Monday March 23rd: Jersey Day
Tuesday March 24th: Rock the Socks Day

Wednesday March 25th: Saber/Team Gear Day
If you still have questions please contact Mr. Gain or check out the website link below or youtube video outlining what the FHS March Madness is all about.
http://patgain.wix.com/marchmadness
https://www.youtube.com/watch?v=-E_S6KsIvN4
Twitter: @fhsmarchmadness