Mock Trial Heads to State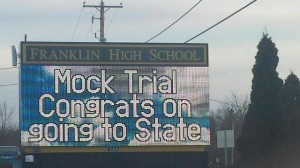 On February 14th, Franklin High School's Mock Trial team competed at Racine Regionals in a precinct courthouse.  This was their first year defending their title as Regional Champions. There, they won four rounds, giving them the best track record for trials won (no other school won more than three trials).  In the end, they beat eleven schools, including Nicolet and Oak Creek, and came in first place.  The team will advance to State, where they will compete against sixteen other mock trial teams and attend a banquet in Madison.
At Regionals, in each round, the team split up to make three lawyers and three witnesses.  They competed as both prosecution and defense, with six on each team, and twelve total.  For each round, they went through the same case –  which was a murder case between two roommates who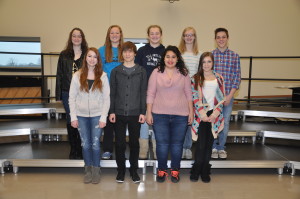 had been in dispute.  One of the roommates claimed she shot and killed the other in self-defense, believing she was an intruder.  However, there was motive for the crime, and the murdered roommate had been spreading rumors online which had ruined the shooter's chances of getting a job.
The FHS Mock Trial team members have been practicing with the case materials since October, including participating in scrimmages at Nicolet and Whitnall before going to Regionals.  Judges scored them in these scrimmages, as well as at Regionals.
Wish FHS Mock Trial luck at State on March 7th, when they will be competing.