You're Invited to the 2nd Annual Mr. FHS Pageant
The Mr. FHS Pageant is a production that brings humor and entertainment together with raising money for a good cause. A committee of FBLA (Future Business Leaders of America) members have organized a show where 12 of your fellow male students will compete for the title of "Mr. FHS". Get ready to be entertained by performances in categories such as: Talent, Swimwear, and Formal wear and interview skills.  The opening dance will be something you won't want to miss!
This Year's Show will Feature…
Freshmen: AJ Catarozoli, Andrew Cuske, JJ Baricevic, and Trevor Shohoney
Sophomores: Danny Mahan, Mike Hennig, Caleb Willert, and Hawk Wimmer
Juniors: Ryan Simmons and Malik Flores
Seniors: Jake Gain and Korey Soich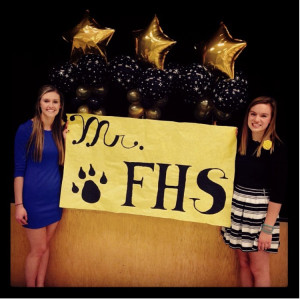 Come out to the FHS Saber Center on Wednesday, February 18 starting at 7pm to support your fellow classmates, Relay for Life and FHS's FBLA Chapter. The money raised will go towards Relay for Life and FBLA. The ticket presale price for students and adults is $3 per ticket and tickets at the door are $4 for Students ,$5 for Adults, Free for kids 10 and under; so save money and purchase your tickets before the show. Tickets can be purchased from The Roar Store (by the main office) or from FBLA members or from Pageant contestants themselves. Attendance is not limited to only students, anyone can come to the show, so encourage people in the community to come and support this important cause!
---
To Recap:
Who: Future Business Leaders of America sponsoring the 2nd Annual Mr. FHS Pageant
What: Come see fellow male students compete for the title "Mr. FHS".
Cost: $5.00 Adults, $4.00 Students, 10 and under are Free, $3.00 for all pre-sale tickets before the event. Tickets on sale in Roar Store and through contestants or FBLA members
When: Wednesday, February 18 starting at 7:00pm
Where: FHS Saber Center
Why: Money raised will help support Relay for Life and the FHS Future Business Leaders of America chapter.
*Open to all members of the community
---
For more information on Franklin's Relay for Life go to: http://relay.acsevents.org/site/TR/RelayForLife/RFLCY15MW?fr_id=66906&pg=entry
Any questions regarding the Mr.FHS Pageant please contact Mrs. Zomboracz or Marisa Lucht