Robotics Fundraiser: "SlingShot" Documentary Screening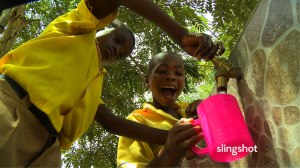 Saturday, February 28, 2015: 1:00pm Doors Open, 2:30pm Movie begins
at the NEW!!!! Franklin High School Saber Center, 8222 S. 51st St., Franklin, WI 53132
Fundraiser for FIRST Team 2506, Saber Robotics
SlingShot focuses on FIRST founder, noted inventor Dean Kamen, his fascinating life, and his 15-year quest to solve the world's water crisis. A technological genius with a provocative worldview, Kamen is an inspiration for future scientists. His inventions help people in need and ease suffering. SlingShot is about an indomitable man who just might have enough passion and innovative thinking to create a solution for a crisis affecting billions.
Kamen lives in a house with secret passages, a closet full of denim clothes and a helicopter garage. His latest passion: the SlingShot water purification system created to obliterate half of human illness on the planet. Kamen reminisces about improving home dialysis technology and choosing to forego parenthood while lamenting he has only one lifetime for inventing.
Trailer link: http://vimeo.com/114286950
Tickets available at: https://www.tugg.com/events/12945
Facebook page: https://www.facebook.com/events/668722423248377/?source=1
Twitter: @saberrobotics
SlingShot is both an inspirational character study and a look at Kamen's vapor compression distiller from its earliest development through recent trials in rural Ghana and beyond
LONGSYNOPSIS
SlingShot focuses on noted Segway inventor Dean Kamen, his fascinating life, and his 15-
year quest to solve the world's water crisis. Iconoclast, Dean Kamen, is a modern hero.
His inventions, mostly medical devices, help people in need and ease suffering.
A quirky genius with a sharp wit and a provocative worldview, Kamen is our era's
Thomas Edison. He takes on the world's grand challenges one invention at a time. Best
known for his Segway Human Transporter, Kamen has reconceived kidney dialysis,
engineered an electric wheelchair that can travel up stairs (the iBot), improved the heart
stent, built portable insulin pumps, founded the FIRST robotics competition to inspire
young students, and on and on. Holder of over 440 U.S. and Foreign patents, Kamen
devotes himself to dreaming up products that improve people's lives.
For over 15 years, he has relentlessly pursued an effective way to clean up the world's
water supply. Fifty percent of all human illness is the result of water borne pathogens.
Dean Kamen has invented a small, energy efficient vapor compression distiller that can
turn any unfit source of water (river sludge, seawater, poisoned well water, or even a
"50 gallon tank of urine", as Stephen Colbert put it) into potable, safe water without any
need for chemical additives or filters. Kamen has nicknamed his device the SlingShot, as
in the David and Goliath story – a tiny technological solution that can take down a giant
problem. But despite the brilliance of his invention, getting these machines into villages
around the world has been a long and frustrating journey.
With unparalleled access over the course of many years to this eccentric, charismatic
and intensely private man, Slingshot is an inspiring portrait of an American legend who
lives in a house with a steam engine in the foyer, secret passageways, a helicopter
garage and wears the same denim outfit everyday. It is the story of an indomitable man
who just might have enough passion, will, and innovative thinking to create a solution
for a crisis that affects billions. This insightful documentary shines a light on the work of
a brilliant man who is truly changing the world, one invention at a time.BIOS
DeanKamen,Inventor
Dean Kamen, Advisor and Principal Subject, is an inventor and entrepreneur, and a
tireless advocate for science and technology. As an inventor, he holds more than 440
U.S. and foreign patents, many of them for innovative medical devices that have
expanded the frontiers of health care worldwide. Some of his notable inventions
include the first wearable insulin pump, a portable peritoneal dialysis machine, the iBot
wheelchair mobility device, and the Segway Human Transporter. Kamen has received
many awards for his efforts. Notably, Kamen was awarded the Heinz Award in 1998, the
National Medal of Technology in 2000 and the Lemelson-MIT Prize in 2002. He is a
Fellow of the American Institute for Medical & Biological Engineering, and has been a
member of the National Academy of Engineering since 1997. He was inducted into the
National Inventors Hall of Fame in May 2005.
PaulLazarus,Director/Producer
Paul Lazarus has an over 30-year award-winning career directing, producing and writing
film, theater and television. Along with SlingShot, Lazarus has created numerous other
documentaries with inventor Dean Kamen highlighting his Segway invention and his
inspiring competition for students, FIRST robotics. He directed and produced the
independent feature, "Seven Girlfriends," starring Tim Daly and Melora Hardin. Lazarus
has directed many notable TV series including most recently "Pretty Little Liars" and
"The Middle." Past shows include: "Ugly Betty," "Friends," "Everybody Loves Raymond,"
"LA Law," "Psych" and "Melrose Place." In the early 90s, he served as the Artistic
Director of the historic Pasadena Playhouse. A graduate of Dartmouth College, Lazarus
apprenticed with the Royal Shakespeare Company in England.
BarryOpper,Producer
Barry Opper has produced eleven feature films and several television projects. In
addition, he has produced over thirty Plays on stages across the United States and
Europe. His feature, television and development work has had him at various Studios
during the course of his career: at New Line with "Critters" and its three sequels; at
Island Pictures with the cult hits "Android" and "Slam Dance;" at Warner Brothers and
Handmade Films with "Another World;" at Paramount Television for several pilots and
series; and at MGM with "Jeepers Creepers." He has also produced commercials, music
videos and short movies, and, for the past three years, has been working as producer,
with Paul Lazarus, on "SlingShot." Opper is a Member of the Directors Guild of America.
He has published numerous articles on Art and Culture (for the LATimes and other
publications) and for two and a half years of his early life taught school in West Africa.
DougBlushACE,AssociateProducer/ConsultingEditor
Doug Blush is a longtime documentary director, producer, editor, writer and
cinematographer whose current credits include the Academy Award®-nominated "The
Invisible War" as Editor and Associate Producer and the 2013 Sundance and theatrical
hit "Twenty Feet From Stardom" as Supervising Editor. The film has also been
nominated for an Oscar® as well as an Independent Spirit Award and ACE Eddie Award.
Marcod'Ambrosio,Composer
Marco d'Ambrosio is a composer, conductor, performer and all-around noise wrangler.
He has scored many award-winning films, documentaries and animation projects. Some
of his most recent scores include Jake Kornbluth's film about Robert Reich, "Inequality
for All," and Steven Pressman's "50 Children" for HBO films. Marco is also a Sundance
Lab composing fellow