FHS Tutoring- A Transformation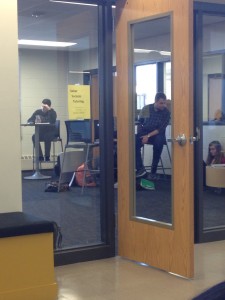 As you may have noticed or heard, Franklin High School is proud to have a new peer tutoring program.  Thanks to Tutor Advisors Mrs. Gilroy, Mr. Babiarz, and Mrs. Zeka, as well as Tutor Student Leaders Michael Pitcher, Sean Luangpraseuth, Jenna Carr, and Courtney Fernandez, the newly revamped program is now up and running.  Although FHS previously had a peer tutoring program, it had limited offerings and was not heavily advertised or utilized.  The new program intends to change that.
The new literacy lab to the left of the main commons area is now being used in resource for tutoring 5 days a week, even on Thursday and Fridays.  Tutoring is available in all subjects, even in specialized courses like business and FACE classes.  The goal of the new program is to make tutoring a positive experience for students and to give a positive connotation to tutoring throughout the school.  While tutoring is generally considered to be 'negative' and only for students that are 'struggling', this is not so, and the tutor leaders want to emphasize this throughout the year.  Tutoring is meant to increase a student's productivity in resource and success in classes. Students can go in to get help in an overall topic, on a specific worksheet, or to create a study group for a test.  Tutors are even encouraged to collaborate together to refine and advance their skills.
So how does one go about getting tutoring? If a teacher recommends a student for tutoring, they will be scheduled and notified of the tutoring appointment.  Otherwise, if someone is individually interested in receiving tutoring, they can either schedule an appointment in student services, or just walk in to the tutoring area.  You do not need to have an appointment to receive tutoring – walk-ins are completely acceptable.  Students also have the ability to request to work with a specific tutor if they find they work best with them.  If students are interested in working with a specific tutor, they can contact a tutor adviser or student leader for the tutor schedule, to see when that tutor is available.
Can I still become a tutor?  As of now, all tutors for the 2014-2015 year are set to go and have received schedules and training.  However, all upcoming Sophomores, Juniors, and Freshmen should consider signing up to be a tutor for the next school year.
What does an average tutoring session look like?  Upon entering the tutoring area, students will be asked to sign in and to specify what subject they want to work on so that you can be paired up with a tutor with that ability. Then they will sit down with the tutor and begin the session. The tutoring session is a two-way conversation and process.  The tutor does not just give students the answers, but rather, leads them through guided questions. The goal of a tutoring session is not for the student to feel intimidated by the information that the tutor throws out at them, but for the tutor to cater the information to the student. A tutoring session can be as long or as short as you would like, depending on how much work you want to get done.
The goal here is for students to be the voice behind the program.  Since students have been the driving force behind the transformed tutoring system, the tutor leaders want to make sure that students both continue to be that driving force as well as the motivators for the program's continuation.  The change begins with YOU, whether it be by spreading the word or by utilizing the program to help you reach your full potential. Teach that academic success is possible and in reach if one takes the initiative to seek it out.
Side Note: The new tutoring program is still looking for a name and logo for the program, as well as a name for the tutoring room off of the main commons area.  If you have any ideas or further questions about the tutor program, please contact student services or any of the tutor advisers/student leaders.
Tutor Advisers: Mrs. Gilroy, Mr. Babiarz, and Mrs. Zeka
Tutor Student Leaders: Michael Pitcher, Sean Luangpraseuth, Jenna Carr, and Courtney Fernandez