The Saber Slate's 2014 Year in Review
As we come to the end of the year, it's important to look back and remember all of the things that made this year so special.  Also, it's fun to cringe at the mistakes we've made as a society as well as at the strangest trends that somehow made their way into the mainstream.  So, without further ado, I give you The Saber Slate's 2014 Year in Review:
Technology: Surprising as it may seem, a lot has happened in the world of technology in 2014.  Here are just a few of the futuristic advances that were made:
1.  The 'Apple Watch'
Although this awesome new addition to the long list of Apple products doesn't come out for sale until 2015, its 2014 announcement of an upcoming launch excited everyone, at least for a few seconds.  The Apple Watch can do almost everything your iPhone can, but with the aesthetic appeal of that Trekkie look we desperately want.
2.  'Google Glass' 
If your wrist is too far away from your face, try Google Glass, Google's new smartphone glasses that can surf the web for you.  Now you can go online while driving with two hands on the wheel, or pretend like you're listening to that conversation.  Well, that might have worked, if it wasn't so obvious you're wearing those bulky Google Glasses.
3.  The Mars Orbiter Mission completion
If you didn't catch it, India's Space Research Organization has recently become the fourth space agency to reach Mars, joining others like NASA and the European Space Agency.  However, India's not only the fourth, but the first nation (and Asian nation, at that) to reach Mars' orbit on its first attempt.  Great job, guys.  We'll find Marvin soon enough.
4.  Artificial Intelligence as a threat to mankind
That's right, you heard me right.  According to Stephen Hawking's warning in 2014, artificial intelligence may pose a very real threat to us humans.  Artificial intelligence is capable of evolving faster than us slow pokes, and is working hard on its smarts.  Just look at Watson, the computer who beat our top Jeopardy players.  Be wary, folks.
Media: One of the favorites in our yearly review, the media coverage from 2014 will surely blow your mind.  Or make you shake your head in shame, either one.
1.  The Ellen Degeneres Oscar Selfie
Remember this? Of course you do, because for the past year everyone has been imitating this catchy (horribly overused) pose in all of their group selfies.  But, who can blame us for wanting to imitate the famous celebrities, including Jennifer Lawrence, Meryl Streep, Channing Tatum, Lupita Nyong'o, and many more?  Who knows, maybe our selfies will someday reach the billion dollar status of Ellen's.
2.  Flappy Bird
Although Flappy Bird was released in 2013, I'm sure we all remember its build up to fame and infamous removal from the Apple Store in 2014 after its frightening addictive ability was realized… What was your high score?
3.  Famous Cat Hero Video
If you haven't seen this yet, go check it out right now.  In this famous Youtube video, we see the unlikely cat hero who saves a boy from the start of a vicious dog attack.  TAKE THAT, DOG PEOPLE.
4.  Justin Bieber's Arrest Record
Oh, Justin Bieber, you never fail to surprise me with your charm and talent.  It must take real talent to mess up this bad, with an arrest for driving under the influence, resisting arrest, and driving with an expired license.
5.  The end of How I Met Your Mother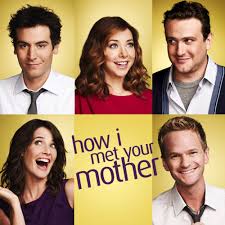 For those of you that remember this show, or have been watching it since it first aired in 2005 (I'm concerned, how old were you?), it was a sad day on Monday, March 31st when the show's final episode aired.  And, probably more sad for many of you with 'that' kind of ending.
6.  Celebrity Photos Leaked
Whoops… it looks like the iCloud's not a safe place for anyone's nudes.  Wait… was it supposed to be in the first place?
7.  Jay Leno leaves The Tonight Show
For all of you that missed it, Jay Leno left his role as the host of The Tonight Show after 17 years.  For me, it was a lifetime, literally.  That's alright, though, because I'm sure his replacement, Jimmy Fallon, will be a great replacement for another 17 years.
8. Gangnam Style Hits
I'm sure all of you remember Gangnam Style as the hit from 2012, but in 2014, Gangnam Style was the first Youtube video to reach 2 billion views.  It's been a long time coming.
9.  Sharknado 2
For all of you that just loved the beautifully crafted Sharknado, don't fear, Sharknado 2 is here for you to watch in 2014.  So, do what you will with that information…
10.  Ellen Page's 'coming out' speech
For those of you that didn't know, Ellen Page released some personal news this year.  However, it wasn't just her coming out, but her heartfelt speech that caught people's attention.  Watch it here.
History Makers: These are the events that will stick with us, or have, for this past year.  Of course, these are only a few history makers, but a few we took a special notice of this 2014, either for their ridiculous over-exaggeration or fervent messages.
1. The completion of The World Trade Center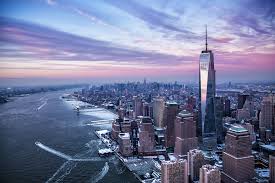 The new skyscraper was finally completed and opened this year after thirteen years in the making, marking a turning point in history after the tragic events that occurred on September 11th, 2001.
2. The Flu
For all of you that ran out to get your flu vaccine this year, sorry to break the bad news… it probably won't do you much good.  It turns out, the predicted strains of flu were wrong, and so is our vaccine.  Oops.  Your best bet now to avoid the particularly nasty flu this year is to eat healthy, get enough sleep, exercise, take your vitamins, and avoid human contact at all costs.
3.  The Nobel Peace Prize Winners: Malala Yousafzai and Kailash Satyarthi
Only seventeen, Malala Yousafzai is the youngest recipient of the Nobel Peace Prize. Her work to educate women and girls in Pakistan has grown into an international movement.  She's also famous for her heroism to continue her efforts after her near-death experience at the hands of a gunman.  Try doing all that by age seventeen.  Kailash Satyarthi, age sixty, has also worked hard for the rights of children from all over the world.  His efforts to help enforce child labour laws have spread to protect the rights of over 83,000 children.
4.  Ebola
This year, the outbreak of Ebola left thousands of people dead.  However, we seemed to exaggerate the serious nature of our own outbreak here in the U.S.  Either way, this year's Ebola outbreak will surely be remembered.
5.  Emma Watson's speech at the U.N.
If you missed it, Emma Watson (that's right, the one from Harry Potter), made a ground-breaking speech on the U.N.'s campaign to end gender inequality.  In it, she addresses the true definition of feminism, the needed end to feminism's association with 'man-hate', as well as the need for men to join the movement for gender equality.  Watch her speech here, and join the campaign for gender equality at http://www.heforshe.org/.
6.  Ferguson and other protests
Whatever your opinion, no one can deny that the shooting of Michael Brown and the homicide of Eric Garner have brought new attention to the issues of racism and racial tension in the U.S. today.  Protests have broken out across the country, highlighting the major frustrations of African Americans and other Americans across the country.  Although these protests began in 2014, we'll be sure to keep a look-out for changes in the coming year.
Trends in Fashion: Although we haven't seen many new ones this year, here are a few trends that caught our attention in 2014.
1. Those Flower Crowns
Featuring that indie/hipster look is the easily spotted flower crown wearer.  This year, the classic look for weddings or hippies had made a huge comeback for our hipsters.  We've seen less of it since the summer, but I will never forget the time when all the girls looked like flowery country folk.
2.  That One Guy Hairdo
You know the one I'm talking about.  The short on the back and sides and long on top look.  Again, emanating the past with their 50's West Side Story hipster look…not that I'm complaining. Please, continue.
3.  Crop Tops (and those high waist pants)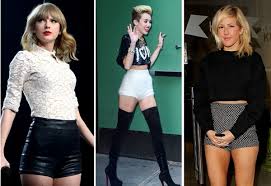 And they're back from the eighties! How we've missed you, crop tops. What other way would we be able to wear our high waist pants without looking like moms?  Well, our moms probably did wear them back then…but now it's our turn! So go out and buy your crop tops and high waist pants now, who knows when they'll fall out of style.  It's okay though, we can always reuse them again when our kids bring them back into fashion.
4. Leather/Pleather
Leather skirts, leather shirts, leather shorts, leather pants…well, not usually leather, if you want to keep some money in the bank.  But this past year, there's no doubt that the pleather was brought back from the depths of hell it came from.
5.  The Combat Boot Impersonators
You know the ones I'm talking about.  Those combat boots that aren't really combat boots, but the fashionable kind you can wear with that nice pair of long socks you have and your latest hipster ensemble.
6. Everything Hipster
That's right, the hipsters were still here this year, and stronger than ever.  Check out this link for some of the most hardcore hipstering from 2014.
The People We'll Miss from 2014: Probably one of the saddest things about our yearly review is the figures we won't see any more of after this year.  Here are a few of the notables we lost in 2014.
The man who probably made up at least half of your childhood, Robin Williams died this year at the age of 63.  Sadly, the man who brought us the best laughs died of Depression.  He'll be remembered for his many movie and television appearances, including Mrs. Doubtfire, Good Will Hunting, Dead Poets Society, Aladdin, Good Morning, Vietnam, Jumanji, The Fisher King, Flubber, Mork and Mindy, and many more.
I'm sure you've heard her name before.  Famous childhood star Shirley Temple died this year at the age of 85.  I'm sure her catchy singing and dancing numbers, as well her celebrity, will live long past 2014.
Sadly and unexpectedly, Seymour Hoffman died this year.  He was most recently well-known for his role as the game-maker in The Hunger Games movie series.  However, he was also a director and producer, and starred in many other movies, including Capote and A Most Wanted Man.
You may recognize the name.  That is because Maria von Trapp was the last surviving member of the von Trapp family (the one you saw in The Sound of Music).  She was the second eldest daughter of the von Trapp children, and was the inspiration for the film's character Louisa.  She was 99 years old.
5.  Joan Rivers
Another abrupt ending, Joan Rivers died this year at the age of 81.  She was not only a comedian, but a paver of the road for women in entertainment and media.  Later in life, she was famous for her role on the TV shows Fashion Police and Joan and Melissa: Joan Knows Best?
6.  Maya Angelou
A true Renaissance woman, Maya Angelou died this year at the age of 86.  She was most well known for her book, I Know Why the Caged Bird Sings.  However, she also was a poet, dancer, actress, singer, and essayist.  Check out some of her amazing works that will surely remain longer than her years.
You may very well be unfamiliar with this actress, but her career is one that should be remembered.  After starting out as a fashion model, Bacall began her career as an actress at age 17.  Her distinct look and voice landed her major roles in many films alongside major stars, including Humphrey Bogart and Marilyn Monroe, in movies such as The Big Sleep and How to Marry a Millionaire.  She was 89 years old.
(Sadly, there are many important and noteworthy individuals that left us in 2014. However, it would be impossible to fit all of them on this list.)
So, there you have it. Your 2014 Year in Review.  Let us know if you agree with our top picks, and feel free to tell us the ones we missed in the comments below.