Mockingjay Part 1 Movie Review!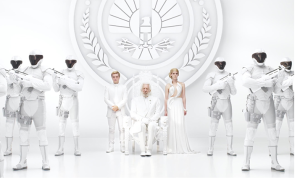 The worldwide phenomenon, The Hunger Games, continues to set the world on fire with The Hunger Games: Mockingjay – Part 1.  This final installation of the Hunger Games trilogy has been divided into two portions, just as the Harry Potter and the Twilight series were. This second-to-final film finds Katniss Everdeen (Jennifer Lawrence) in District 13 after she literally shatters the games forever. Under the leadership of President Coin, and the advice of her trusted friends, Katniss spreads her wings as she fights to save Peeta (Josh Hutcherson) and a nation moved by her courage.
The story begins in rebellious District 13, whose commanders rescued Katniss from the Quarter Quell games at the end of the last film. Rioting has broken out in several districts, and 13's icy leader, Alma Coin, wants Katniss to be the main leader of the revolution. With no fight-to-the-death games in this film, Jennifer Lawrence's bow and arrow take a back seat to her acting. This is not a bad thing: her amazing storm-raging performance is the best thing about the series.
Mockingjay – Part 1 is Katniss's coming-of-age film as she wrestles with her role in the armed struggle against the totalitarian Capitol.  District 13 might appear to be the district of the good guys, but Katniss is suspicious of Alma Coin and her slippery spin doctor Plutarch Heavens bee.  As she heads onto the battlefield, someone asks her: "What if you die?" She snaps back, "make sure you get it on camera." Katniss shows true spirit, and brings the rebellion to life.
Over in the Capitol, Santa's evil twin, President Snow (Donald Sutherland), is having poor Peeta tortured (if the beatings weren't bad enough, look at the shiny white power suits they make him wear on TV).  For a franchise with an outstanding cast, the chemistry between Katniss and Peeta has always been a bit limp, so there are no complaints here about keeping them apart.
The politics in Mockingjay – Part 1 are as intensely gripping as the games in the earlier films – and more deadly.  I recommend all you movie goers to watch this film for its amazing action sequences, romantic love triangle, and best of all, its heroic heroine, Katniss, who is strong, smart, determined, and full of heart. You'll be in constant suspense the whole movie. Is the fight against the Capitol unavoidable? Can the rebels be trusted to do the right thing if they take power? Who will Katniss end up with? Well, the answers to all your questions can be found within this film.  So, what are you waiting for? Go book some tickets, and watch part 1 of the final installation to the Hunger Games!