Welcoming Franklin High School's New Police Presence-Officer Paprocki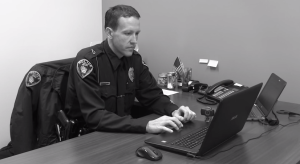 Whenever the words 'police officer' and 'teenagers' are used in the same sentence, it usually conjures up images of wild house parties being busted. No one regularly thinks of teens and police officers working together and talking about important issues. However, thanks to the new addition of Officer Paprocki to the FHS staff, this cooperation is now imaginable.
After talking to Mr.Kohn as to why Officer Paprocki was needed at FHS, I learned that Officer Paprocki isn't just here to enforce some rules, he's also here to talk to classes and help improve our school climate. Some of his responsibilities include: talking to students and classes, working with small groups, and meeting with students one-on-one to talk about important issues.  Now, we students have access to an officer who can answer our questions, as well as help to cultivate and maintain a friendly and open relationship between the police force and the students.
Officer Paprocki was chosen by both the Franklin School District and the Franklin Police Department.  He was first interviewed by the police department, and then later by the school board. Officer Paprocki has years of experience behind him, and plans to work toward creating a safer learning environment for all students.  And, in order to achieve this, students must work just as hard.  Things we can do to help make our school a better environment are supporting anti-bullying campaigns,  engaging in safe behavior, and obeying school rules. That way, every student can feel comfortable attending FHS.  So don't be shy, and if you haven't yet, make sure to welcome our new FHS staff member, Officer Paprocki.