The Poster Games: Are the Odds in Your Favor?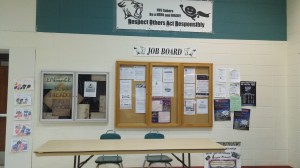 Have you heard of the new rule at FHS about hanging posters in the hallway?
"FHS officially has a new procedure for hanging signs around the building.
1. There will be a shift away from physical signs, and instead we ask that organizations/students/advisors/coaches use the following:
After initial approval from the athletic and activity office or administrators, we will stamp your announcement and then you can get in touch with the following people/groups:
a. The Saber Slate (Touch base with Mr. Nettesheim, the advisor)
b. Student E-mail (Touch base with Mrs. Benedict or Mrs. Unertl, they will send out)
c. Digital/Daily announcements (Touch base with Mrs. Hannon, daily reader)
2. Students may ONLY use the following physical locations for posting signs:
a. Student Lockers (with student permission)
b. The wall around the water fountain in the main lobby, or the west wall of the cafeteria.
3. Finally, please make sure if you/your group hangs a sign in one of the designated areas, that it is aesthetically appealing and appropriate."
Now, when I first heard about this rule, I was extremely frustrated. I am part of the Forensics team, and we heavily rely on posters to recruit new members, and promote the team.  It seemed like the administration was severing communication lines between clubs and the student body.  I was planning on writing this article based on this frustration, but after hearing Mrs. Unertl's responses to my interview questions, I actually think that this new rule won't be too bad.
Hear me out:
In the past, posters have been posted all over the place and in many different designs: in neon colors, with funny pictures, in huge sizes, above water fountains, and in any place to attract attention.  It's like the Hunger Games of FHS – each club fighting over students' attention.  With the new poster rule, posters are only allowed on lockers, and in certain areas of the school (on the West wall of the cafeteria by the Job Board, and by the water fountain next to the main office). This will consolidate the posters and create a kind of "Activity Bulletin Board".  That way, students who are interested in looking for a club to join can view the board and get lots of information about many different activities.  Also, students already participating in activities will know where to go to get information, instead of straining to hear the announcements over noisy classrooms.
As for the concerns that this will restrict the ability of clubs to promote themselves and recruit new members, it's true that this new system may have a few kinks that will need to be worked out.  However, I strongly believe that clubs will still be able to attract new members.  I think it's reasonable for students that are interested in a club to put in the extra 2 minutes of effort to walk over to one of the designated areas to get some information.  And, I don't think that this new rule will have an overall large effect on clubs, and in time, students will adjust to the rule.
But please, leave some comments with your opinions about this new rule.  How do you think it will affect clubs? Is this a good change, or a bad change?