Betcha Didn't Know… Library Edition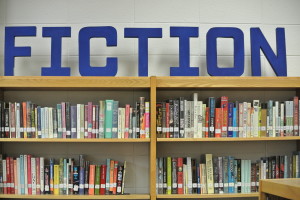 How much do you really know about FHS? With this new series, Betcha Didn't Know, we will attempt to give you some facts about FHS that you might not have known before!  First up under our spotlight is the Library.
Well first off, betcha didn't know that we had a library… just kidding!  Hopefully, everyone knows we have a library, despite distracting construction.  But does everyone know some of the most unique things available for use in the library? (not including computers)
In no particular order of usefulness, here are some things you can find in the library with a little poking around…
Firstly, there is a 2,662 page dictionary, near the library's entrance, that probably weighs more than some freshman. Hopefully some of the words in there, like zyzzogeton (which is a genus of leafhoppers, if you were wondering), never show up on the SAT.
If you go into the library and turn left, past the biography section, there's a whole section on American Government, which includes a series called Checks and Balances, which is basically everything you need to know about the American government system for your classes.  AP Government students, you should check this section out to get an edge in the class (or possibly an additional tool (a.k.a substitution) to your textbook).
Did you know that before Mayo Clinic and Gray's Anatomy were a website and t.v. show they were books?  And the library has lots of them!  Every medical book you could want.  For example, they have The Pill Book Guide to Over the Counter Medications. Zayum
Over in the lounge area of the library, there are the latest editions of People, Health, Outdoor Life, and Sports Illustrated Magazines for your enjoyment.
Hey upperclassman, did you know that the library has a whole career occupations section? It has college majors handbooks, ASVAB study guides, books on financial aid, information on how to get your degree online, and even College Board/Kaplan ACT/SAT and AP Class study guides.  All for free (with a student ID) – so keep these resources in mind.
Also, there are many old checkout cards to find – with names from FHS students going back to the 70's.  Lots of shelves are filled with blasts from the past and some of the books even date back to the 60's.
Also, on the back shelves are trophies so old that cobwebs distinguish their seasoned ages. These trophies consist of the chess trophy from last year, to a 2nd place UW Whitewater Math Meet Trophy from 1986.
 You could spend a lifetime discovering treasures in the back nonfiction section.  There's more than you'd ever want to know about pretty much everything, from a 526 page encyclopedia on WWII, to a book on Gay and Lesbian Literary Heritage.  There's books on Eskimos, the Renaissance, World Wrestling, 1,001 movies to see before you die, 100 best songs of the 20's and 30's, Horticulture, car design (like a pro), hair styling, sewing, and body sculpting.  There's also cookbooks, as well as tons of other crazy and unusual stuff to explore.
Maybe the answer to your next lit. essay lies in the literary translations of many required readings.  There's an entire shelf on Shakespeare in the library to help you.  While they might not give you the answers to your Macbeth objective test, these resources could help your analysis essay.  Do it in pre-Sparknotes throwback style.
Another bonus is that most of these resources are what teachers would call reliable sources, perfect for papers and projects. And for juniors and sophomores, the library will be a best friend during the 'junior research paper' process. With the information available through online databases (that the library has all the access information for) and the reference/biography sections in the back left half of the library, your paper will practically write itself.
And, the library changes from season to season. Recently, for Halloween, the library featured some sassy and fun decorations, including scattered pictures of zombies, and a "Caution: Keep Away from Throat" sign appropriately placed on a copy of Dracula.  During the holiday season, the German students' Gingerbread Houses will be on display.  Also, in May, the library features many anxious and excited students anticipating AP Exams.
So check out the library, what do you have to lose?  Or rather, what do you have to gain?
If you have any suggestions where we should go/what we should do for our next installment of Betcha Didn't Know,  leave them in the comments below.  We will feature facts on people, places, and things.  So give it some thought, and let us know – we'd appreciate it.