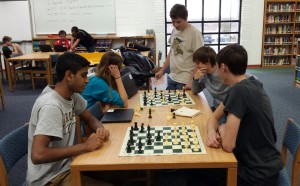 As many students may already know, the FHS Chess Team began meeting on October 6. It's not too late to join, though. The Chess Team is always open to accept new members, as its main goal is to educate students and help them prosper in their lives. The team, whose first competition was with USM on October 23, will continue meeting until March 22: the end of the state championship (or April 12, if they make it to the national level). All other information on the team was best explained by Coach Wiedenhoeft. So, without further ado, here is a message from him to the general public.
"Chess is every hour of your life. You eat chess, breathe chess, dream chess…but we meet Mondays and Wednesdays from 3 to 5 in the library after school. Throughout the season, we will have 6 Thursday events when players play members of other schools' chess teams of the same respective rank as them. These games will be USCF rated. That rating is something you carry for the rest of you life. As for who is most welcome to join the chess team: the most welcome would be an international grand master, followed by everyone else.  Although, it does help everyone on the team to have members of a wide age and skill range. Chess itself should be, or rather is, a very unique form of expressing personality. The rules of the game are undeniable, but you can put yourself into it. It should teach students what it is to have their own work and get into the mindset of 'If I lose, I didn't work hard enough,' and 'If I win, I worked harder than my opponent.' It provides a very different outlet for representing your schools than other venues."
So, if you are interested, come to the library after school on a Monday or a Wednesday. You may just find something that you will continue for the remainder of your life…or at the very least an enjoyable, intellectual hobby that you can practice almost anywhere.