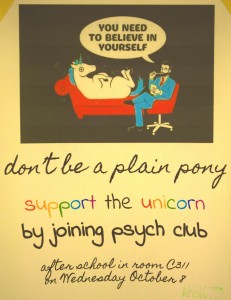 There are dozens of wide-ranging athletics and activity clubs at FHS recognizable to everyone, including Bowling, Lacrosse, Anime, Franklin Teens Fighting Tobacco, Basketball, and more.  However, it is rare to see a new club added to this long list.  As you have probably noticed from the hilarious posters hanging around the school, Psychology Club is one of these new rarities.
Psychology is one of the most popular areas of study at FHS.  Roughly 300 people annually take a Psychology class.  So, it's not surprising that the Psychology Club has already proved to be fairly popular.  At the first meeting, held on October 8th, over 50 students showed up to learn more about this new intriguing club.  Emma Jardas is one of the students who founded the club, describing it as, "a student-based and student-run organization that focuses on promoting the study and discussion of Psychology, helping the community through service and awareness, and exploring and experimenting in the field of Psychology." Possibilities for the Psychology Club include community service activities, multiple guest speaker presentations, student-made Psychology experiments, lab visits, and Psychology-related movies.
Just last Thursday, at the Franklin Public Library, students gathered to listen to a dream interpreter.  One of the teacher advisers, Mr. Karolewicz, described Psychology Club as "…a good way for students to be social around a common interest." Besides this benefit, Psychology Club may also prove to be useful for AP exam prep sessions, or tutoring.  However, as with most clubs, all students are welcome, whether having taken a Psychology class before, or not.  Any students with an interest in Psychology are encouraged to join.
At first glance, this seems like a simple edition to our list of clubs. However, Emma Jardis goes on to say, "the [Psychology] Club is not focused on learning Psychology concepts, but rather the application and exploration of them."  Applying concepts discussed in the classroom to the real world is arguably one of the most important aspects of learning.  Isn't school supposed to help prepare us for the real world? While the real world application of material may be the goal of education, it can often be skimmed over in the classroom.  However, Psychology Club is prepared to supplement this extremely important, yet frequently missed, aspect of learning.  It is clear that this new edition to the FHS clubs will be a hit with students, for this reason.
Personally, I think this will be an excellent new club, and I hope that other clubs like this one pop up in the future.  The entertaining, yet academic, club-type could be applicable to other popular classes – such as AP Euro, Photography, and even Biology.
Meetings are held every other Wednesday in Mr. Karolewicz's room (C311) after school from about 2:45 –  3:30. The next meeting is October 22, this coming Wednesday.