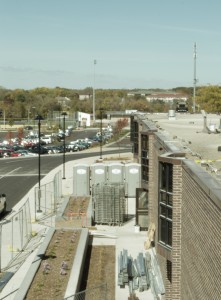 A year and a summer has gone by with Franklin High School under construction.  In this time, an auditorium, a new lobby, a new parking lot, and plenty of new classrooms have been created.
The importance of these new additions is the new collaborative nature in learning facilities they create, for both students and teachers.  These new learning spaces are pertinent to better performance and an enhancement of the learning experience.  At the same time, the new parking lot allows for more students to park on property, and for more parking during school events.
Even with all of the construction, the school is not done yet.  There is still more work to be done on the Engineering, Art, TV Production, and Science classrooms.  Also, in some areas, flooring still needs to be added.  The original section of the school still hasn't changed much, either.  However, there will be new classes in the front hallway, and some of the PLTW classrooms in the old part of the school will soon be transformed.
This proposed date of completion is sometime in January.  However, after a long year of construction, the school is very functional, and is a great update to the old.  We are very thankful for all the hard work the construction workers have put in to our school, and look forward to the construction's completion.