The Maze Runner: Awesome Movie Review!
The Maze Runner: Awesome Movie Review!
*SLIGHT SPOILER ALERT*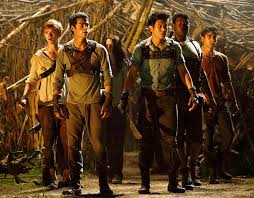 Hello FHS! What is that one film that is being talked about all over school? Why it is none other than The Maze Runner! A brain teasing hybrid of Lost and Lord of the Flies, The Maze Runner is the latest literary sensation that has won the hearts of many teenagers. Although there isn't a dying heroine, or hunky vampire, to be found anywhere in this better-than-average adaptation of the James Dashner's bestselling book, Ball's film adaption of The Maze Runner has managed to become the most talked about film of the year.
Dylan O'Brien, best known from his starring role in MTV's supernatural drama Teen Wolf (the girls know what I am talking about), plays Thomas, a young guy who wakes up in an industrial elevator that deposits him in the middle of a mysterious field. The place is surrounded on all four sides by towering stone walls, and looks like the quad on the campus of the world's worst party school. Thomas' memory has been wiped clean, but he's not alone. Greeting him with suspicion are dozens of other Lost Boys who quickly refer to him as the 'greenie' newcomer, and fill him in on the 'laws and regulations' of their jungle society, which they call the Glade.  Like him, they all arrived from an unknown place, and have spent their time in confinement, trying to figure out a way to escape while running from giant spider-like creatures, called 'Grievers'. Thomas quickly proves to be an invaluable addition to the tribe.  He's curious and brave, and he doesn't cower from the Glade's resident bully (Gally).  Thomas impresses the boys so much with his courage and bravery, that he becomes a part of the most heroic subgroup: the Runners.  Each day, these Runners head off through an ominous passage in the walls, and sprint through a maze of alleyways and deadly obstacles, searching for a way out. Designed to look like the cement walls of an old Soviet foundry, the Maze is an impressive creation of the mind, and is the setting of the film's most breathless action sequences.  Unlike the spidery Grievers, the living, breathing Maze wows you with a creepy sense of awe.
Who built this place? What's expected of these young prisoners? And what do the mysterious initials 'W.C.K.D.' have to do with it all? Thomas needs to know.  And when a young woman (Kaya Scoledario) arrives, she hints that Thomas may already have a clue as to why he's there…if he could only remember.  If you want unravel the mystery with them, then you should definitely watch The Maze Runner. It incorporates every element of an amazing teen film; action, mystery, thrill, and of course a bit of romance, making it a must-see film!  So what are you waiting for, folks? Book some tickets, and go watch The Maze Runner now!