National Student Leadership Conference: An Academic Summer Camp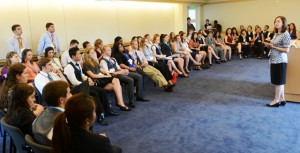 Many people go to summer camp and come back with tons of memories of their new friends and amazing experiences. However, not all summer camps are about sports or canoeing, or even camping.  The National Student Leadership Conference is a summer camp, however, it offers an educational, yet fun, summer experience for students in their chosen field of interest. It was the first ever academic summer camp – and is pretty prestigious – recognized by employers and colleges as a definite plus on an application.
For the camp, students go to college campuses all over the U.S., for roughly a week.  The NSLC program has grown to include Law & Advocacy, Medical & Health Care, Forensics Science, International Diplomacy, Biotechnology, Business Programs, Culinary Arts & Restaurant Management, Education, Engineering, Intelligence & National Security, Journalism Film & Media Arts, Mastering Leadership, Political Action & Public Policy, Sports & Entertainment Management, and Theater.  At the beginning of the week, students are assigned a final project due at the end of the week. That final project incorporates all of the knowledge learned throughout the week. There are no grades, but it's exciting to see how far everyone has come since they began the project in the information they have gained.
The main focus, however, is on the L in NSLC: Leadership.  Every program has a strong emphasis on developing leadership skills. Their website states, "At the NSLC, you will enjoy innovative and fun leadership workshops where you will both learn and apply essential leadership skills including: Team Building, Ethical Decision Making, Time Management, Goal Setting, Public Speaking, and Conflict Resolution." Along with classes, lectures, and seminars about the chosen field of interest, students work with others in class, and attend lectures from a leadership coordinator.
While a large part of NSLC is about academics, it still is a lot of fun.  Students get to stay in dorms and eat at the cafeteria, similar to a real college experience.  In addition, NSLC travels around the city, going on tours and experiencing the fun side of a summer camp.  Life-long bonds are formed with the other NSLC students that come from across the nation.
Anyone can apply for NSLC. You can either be nominated by a teacher, or submit an application. Visit nslcleaders.org to find out more about this amazing program. Trust us, it's worth it.