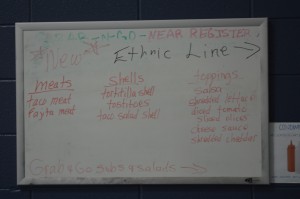 Here at FHS, students have been offered access to wonderful exotic foods. How, you ask? Through the birth of the new Ethnic Lunch Line! Formerly known as the Sub Line (line A), this new line has a variety of foods to offer, from the pizza and pasta of Italy to the zesty spices of Chinese cuisine – this line has it all!  Many students at FHS are wondering how this line came to be.  Well, no need to worry, because this article has got the answer.
Since the new lunch program got rid of those delicious cookies due to their high fat content and replaced them with healthier cookies made from whole wheat, lunch sales at FHS are going down. In order to balance sales again, the Head of the Food Department introduced the new Ethnic Lunch Line, designed to create a variety in lunch options.
However, some FHS students are asking the difference between the 'ethnic' food in this line, compared to other lunch lines.  The Head of the Food Department says that, although lines B and C offer ethnic food along with the other options, the new Ethnic Lunch Line is specifically there to serve ethnic food. Also, in addition to the food that is currently being served in the Ethnic Line, the cooks at FHS look forward to hearing ideas from the students about additions to the Ethnic Line.  Arabic, Greek, and Indian foods have already been recommended by students.  With more suggestions, the Ethnic Lunch Line will become a new loved option for all of the students at FHS.