JOIN NEXT YEAR! (No Pressure)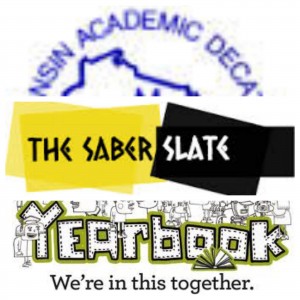 Are you interested in joining more activities next year?  Whether for fun, for college, or because you are SO bored, look no further than Media Journalism, Yearbook, and Academic Decathlon.
Media Journalism: What kind of voice do you want to have? Are you interesting in writing, drawing comics, or are you just wanting to take pictures? Now that the Saber Slate has gone digital with the basics laid, we as a staff have many new and exciting ideas that we would love for you to be apart of! If writing is not your strong suit fear not because you can also learn web designing, photography and social media. The Saber Slate also wants students to work on promotions and contests to increase student involvement, which include Twitter and Facebook. Every single student sees this website and it is the perfect outlet for a student who wants to write about local, school, and world events. Overall, Media Journalism is a chance to change the school…. for the better and allows you to have a voice in the school whether you want people to know who you are or not.
Yearbook: Do you like photography and graphic design? Then yearbook is for you! This club is a great opportunity for students to design a lasting memory that students will treasure for years to come. Even if you are still unsure about fully committing, the yearbook staff would greatly appreciate it if you could upload pictures from any club, sport, activity, or of just you and your friends to make the yearbook even better for next year!
Academic Decathlon: Do you enjoy school? Do you enjoy learning? Do you want to get smarter? Probably not, but you should join anyways!