NEW Archery Program in Eco Club
Hello readers,
With the 2013-14 school year coming to an end I know you're all thinking about Summer and all the great times you're going to have. If you're looking for something to make your summer more interesting, you should think about picking up a bow and do some archery with your friends or family.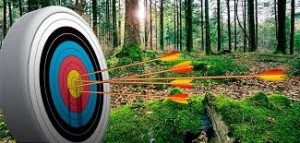 Target shooting with a bow is a lot of fun, and is a great way to get your mind off of the hours of summer homework you still have left to do. It doesn't have to be done competitively, just go outside and have some fun!
As many of you may already know, Franklin High School will be integrating an archery program into our pre-existing Eco club. We have teamed up with the National Archery in the Schools Program (NASP) to get the equipment, and there are many grants available to continue to fund the program as it grows. Archery is one of those things that everybody should be able to try in their lifetime, and this is a great way to see if it's something you'd like to do. You are not buying your own equipment, so it's risk free money-wise, and this gives you the opportunity to shoot competitively or non-competitively in a group setting.