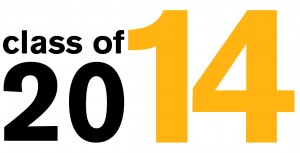 The time has actually come… the Class of 2014 is graduating this Sunday at the Milwaukee Sports Complex.  Many peers that I have known since elementary school will be branching off all across the United States.  There are so many faces that I have become accustomed to that I will probably never see again.  To be honest, this realization just hit me the other day as I walked down the hallway.
The Class of 2014 has so many wonderful memories; each unique to the individual.  We should be proud to walk across that stage saying, "WE DID IT."
As I prepare to receive my diploma, I want to say thank you to all FHS students.  The Saber Slate website has been my baby throughout this year.  Seriously, before the website, I would bug EVERYONE in the hallways, shoving paper copies of The Saber Slate into their hands.  But my Senior year has allowed me to build this website that allows Journalism to share all of the stories that Franklin can be proud of to showcase.  It has been an exciting year, and I am honored to have been part of something so extraordinary.
Yet, before I finish my last Letter from the Editor, I have a few pieces of advice for the underclassmen.  As someone who has over-stressed about grades and AP classes, the pressure isn't always worth it in the end.  There is no doubt that grades are important, but taking classes to "get ahead" of others is not a real education. Take classes that YOU enjoy and look forward to taking.  Everyone is put on this earth with certain gifts and talents.  If that means you take every construction class, TV Tech class, or AP Science, then do it.  Don't worry about what other people are taking or telling you to take.
Also, high school has taught me that life isn't always fair.  There are SO many ups and downs that it can be difficult to stay positive throughout all four years of high school.  Whether friends bring you down, teachers pile on the homework, or you feel a lack of appreciation, it's important to remind yourself of what you have.  Create your OWN opportunities, because you'll be surprised by what you can achieve. And one more thing, don't be that person that does not follow through on promises.  We all know that person that joins a bunch of clubs and doesn't actually fulfill their duties.  That's just annoying because it's unfair to the individuals that work their butt off to make a difference.  I respect someone more if they put 100% into one activity, than someone that barely scrapes the surface in a thousand more activities.
Finally, just be nice.  A smile can go a long way to make someone feel better, or to start a friendship.  What you do in high school has a strong affect on not only you, but others.  So, try something different.  Talk to that kid that sits alone at a lunch table, or join a different group when working on class projects.
Thank you FHS for allowing me to create my own opportunities.  Good luck to everyone that I had the pleasure of meeting in high school, because I am a better person because of all of you.
~ Erin Neuhengen (Class of '14)