A mysterious intruder breaks his way into a home… but this man, as well as his intentions for being there, are not all they seem to be.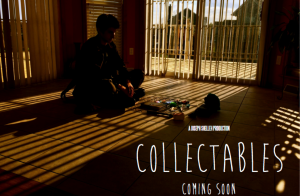 I don't know what it is about me, but all of my films thus far have dealt with themes of crime. My new short film is no exception.
Let me start off by introducing myself. My name is Joseph Shelleh, and I love making movies. I came to Franklin my freshmen year, and after taking the first level of TV Tech, I set out to make my first short film. Now, as a Senior, and I am excited to announce that I'm close to wrapping production on my newest creation, called Collectables.
Collectables is hard to describe, but I will try my best. It is a silent film, but it isn't. There are three very talented actors, but none of them speak. There are sound effects, and there is music… just no dialogue. I'm also not sure what genre I would categorize it, because I imagine each person who sees the film will have a different take on the finished product. It's up for the audience to decide what kind of story they've just experienced.
Collectables will be getting the red carpet treatment this July at Showtime Cinema, right here in Franklin. I would like to extend an invitation to everyone reading this article, to come and see the film at it's premiere in July.  Check back later for the date of the premiere, or check out my Twitter @joeshelleh.
The trailer for the film can be viewed in the Saber Roar episode here, starting around the 9:00 minute mark.
This film is a product of FHS students, staff, and alumni through and true. There is a very long list of people from the Franklin community who helped make this movie possible, but in the interest of time, I will list off some of the key players.
CAST
Jack Gumina (FHS Class of 2014)
Ben Braun (FHS Class of 2015)
Henry Hawkins (Guest Actor)
BEHIND THE CAMERA  
Harrison Miller (Production Assistant, Prop Master, Property Owner)
JJ Kaiser (Rendition of original song "Heder Drive" appears in film)
Omair Chughtai (Visual Effects, Production Assistant)
Taylor St Onge (Set Photographer)
Julia Galipo (Artwork)
Eli Smith (Music featured in film)
Mrs. Gail DeClark (Creative Consultant)
Mr. Richard Gould (Creative Consultant)
Once again, thank you for taking the time to read this article, and I hope to see you at the premiere this July at Showtime Cinema.
Sincerely,
– Joseph Shelleh