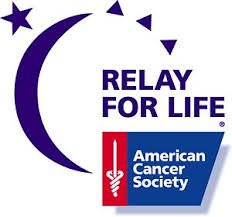 The second annual Relay for Life in Franklin was a huge success! Last Friday, students,staff,and residents throughout the Franklin School District took part in the event. It went from 6pm-12am with food, music, and activities to enhance the evening. Just some of the activities included a Survivor and Caregiver First Lap, a Finding Nemo Scavenger hunt, and a glow in the dark kickball game.
The whole purpose of Relay for Life is to honor cancer survivors, remember lost loved ones, and to fight back against the disease. Individuals who take part in the event are asked to fundraise money to put toward the American Cancer Society. This money is then used to help patients stay well, get better, find cures and fight back. This year the event raised $17,200! Way to go guys, way to fight back against cancer!
Another event that took place was the lighting of the luminarias which remembered cancer patients that lost their lives, supported those still fighting the battle, and congratulated individuals who survived the battle against cancer. After all the luminarias bags were lit, the participants got a chance to walk around and pay their tributes to those who have experienced cancer first hand. Many were heart warmed by this and many other experiences present at this year's Relay for Life.
Olivia Swarthout, a sophomore, who was a participant in this year's Relay for Life thought, "the event went extremely well." She felt it was "very inspirational to see so many different people coming together for a common cause; to fight back against cancer."
All in all, the Relay for Life seemed to be a rewarding experience for everyone present. Not only was a large sum of money raised but participants seemed to have a fun filled night supporting and fighting back against something important to them. Special thanks goes out to Katie Graf, Natalie Lassa, and Katie Conti for organizing this remarkable event as well as to everyone else not mentioned who made this event possible. Let's come back even stronger next year to fight against this disease!