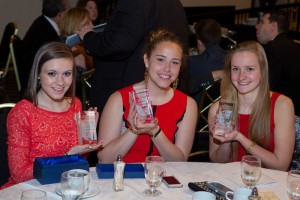 Seven Franklin High School video production students won the 
Chicago/Midwest Student Television Awards, presented by the producers of the Chicago/Midwest Emmy® Awards.
  In Franklin's first time entering and competing against large Chicago schools the students won 3 of the 11 categories. Franklin student Julia Mutranowski, Anna Wozniewicz  & Nicole McCammon won first place for their work.  Tara Thiessen, Paige Pierzchalski, Joe Kirkegaard and Alex Henry won honorable mention. Mrs. DeClark and her students attended the Silver Circle Honors dinner in Chicago where the students were recognized and the winners will received Crystal Pillars for the school to display.