Chromebooks: Next Year's Biggest Change
If you haven't heard already, next year FHS will be issuing students new Chromebook laptops to use in class. These laptops will be rented out at the beginning of the year and students will be able to take them home daily to continue their school work. The idea of integrating learning and technology, while it seems brand new, has actually been in the works by the District around several years. The dramatic decrease in laptop prices, increase in laptop battery life, expansion of the internet, and emergence of social media has allowed for the idea to become a clearer reality.
Two years ago Mr. Dicks started helping on this project with Mr. Kafka and the District Technology Coordinator, LuAnn Zielinski, who is leading this project. Others are also involved, but these three have been taking the lead. The idea behind the Chromebooks is to allow students to connect and utilize technology more efficiently, expand on multi-media projects, and help students prepare for college in their learning and school work.
Franklin is not the first the first school to start a 1:1 program, in fact, Muskego started their program last year with Chromebooks. West Allis and Waukesha North, on the other hand, chose to do their program with iPads. Mr. Dicks explained the reason behind the decision to choose Chromebooks saying, "We did not see [iPads] as the best option for us. We thought the iPad was limited of what it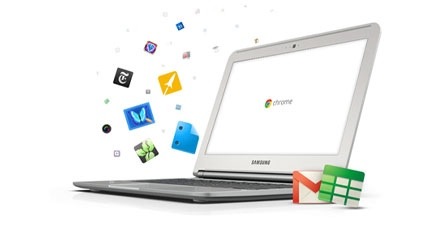 could do outside of it's apps and internet access." He also notes that they are more difficult to manage and lack the luxury of a full, physical keyboard. Hovering around $300 each, the District will now have to choose from a variety of Chromebooks: ones by Toshiba, Samsung and HP, just to name a few. With these options, low price, and range of abilities, the Chromebook was the closest choice to meeting the most requirements the team had in mind.
If you haven't visited the 1:1 website yet, you may not know that only Freshman, Sophomores, and Juniors will be getting these new laptops. Seniors will have to bring their own device, or use one of the laptops the school currently owns (which they will not be able to take home). A survey showed that the majority of students have their own laptop or device they could bring to class, leaving only a small amount who will use the laptop carts. The District wanted to buy enough Chromebooks for everyone, but there was a very tight budget, curriculum implementation needs, and the seniors will only have the program for one year, which lead them to the decision they made.
Progress with 1:1 has been moving remarkably fast, with the laptops planning to arrive in July for prepping. Students and parents can keep up to date on the website, with a link also available on the school website. Emails have already been sent out informing parents and information nights are being scheduled for August.