Franklin High School's growing lacrosse program, consisting of Boys JV, Varsity, and a new Girls team, is currently in the middle of its 2014 season.  Despite a rocky start, the teams are gaining momentum and beginning to show other area teams just what the Sabers are made of.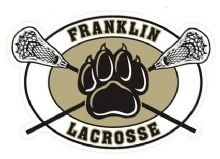 The Boys Lacrosse teams have hit their stride mid-season and are gearing up for future victories.  Varsity's current record is 5-4, and JV just celebrated their first win against Kenosha last Friday.  Teamwork seems to be a deciding factor in the boys' growing success.  According to Varsity defender Brian Lacina, this season "we have definitely improved a lot and understand the game much better.  We also have a lot of seniors this year, meaning we have a very mature team who knows how to work together. "  After learning how to cooperate and play as a team during the early season, both the JV and Varsity boys have banded together and are ready to take their conference by storm.
As one of the local area's only Girls Lacrosse teams, FHS' girls have put a tremendous amount of effort into their debut.  The single JV team consisting of a little over twenty girls is leading the way for greater participation in seasons to come.  Though they have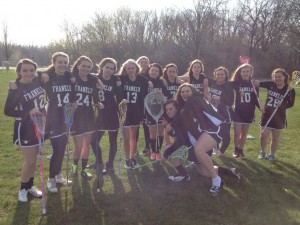 only won a single game, student manager Rachel Taylor notes that "throughout the season I have seen a lot of improvement in different aspects of the game, and the team works better as a whole every game they play.  There is always a positive attitude when we are all together. "  This team is full of girls that are willing to dedicate themselves to the game and each other, and all of their hard work is sure to pay off as the season progresses.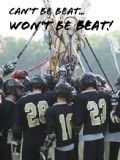 At this point in the season, Franklin's Lacrosse teams are improving their skill and teamwork, and these improvements are reflected in their scores.  As the teams become more experienced, their efforts throughout the season will help carry them to victory.  Good luck to all teams with the remainder of the season!