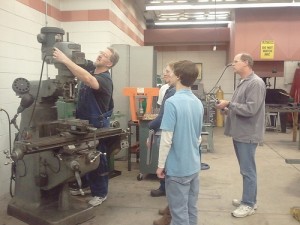 Franklin High School's Robotics Team has achieved a considerable victory this season.  Through innovation, dedication and plain old hard work, they were able to make dramatic improvements in their performance as a team, and even advanced to quarter and semi finals at their two regional competitions.
Regional robotics competitions, run by FIRST (For Inspiration and Recognition of Science and Technology) Robotics, begin with a preliminary round in which randomly-assigned "alliances" are formed between three different teams.  These alliances must compete with others in the season's "game", or challenge that each team has specifically designed their robot to complete.  Robots are scored on how well they perform different aspects of the game, as well as how they cooperate with the other members of their alliance.  About halfway through the second day of competition, the scores are totaled and the top eight teams are allowed to pick two allies each to join them in the final round.  The winning alliance from this tournament-style competition, along with one or two teams recognized by the judges, advances to nationals.
This year's game consisted of picking up a beachball, passing it between your allies and throwing it over a six-foot high truss into a goal.  During the game, a two-man "drive team" controlled how the robot responded to the movement of the other players, but most of the robot's success was determined not by the few minutes of competition, but by the tremendous effort put in by the rest of the team beforehand.  These students had six weeks to design, build and program a robot that was capable of completing a given challenge with as few mistakes as possible.  To improve the robot's range of motion and ability to adapt to in-game conditions, the team used an innovative new program called "swerve" drive, which allows the robot to move in any direction from any position.  "It is the most maneuverable drive train in FIRST to date," says sophomore design leader Thomas Laidlaw.  "However, it is very challenging to program and drive, and the modules we purchased were not light or cheap."  The team's efforts to master this new technology paoid off, however, winning them the Rockwell Automation Design Award for the first time in school history and helping them qualify for quarter-finals at their first regional competition.  They also took home awards for safety and entrepenuership.  But the team isn't satisfied yet – according to Thomas, "next year we hope to decrease cost and weight by designing our own swerve modules and increase maneuverability by adding and programming for a gyroscope."
With some impressive achievments under their belt, the FHS Robotics Team is already preparing for next season.  Although next season's game won't be announced until early January, the team can use preseason meetings to improve their drive, train, and design techniques, as well as train new members.  Despite the amount of work that goes into this team year-round, Thomas agrees with many other members that every minute is worth it, noting that "robotics is an amazing experience in which you learn a lot, achieve a lot, and have a lot of fun doing it."  There's a place for everyone interested in robotics, with various sub-teams of design, programming, mechanical, electrical, and even a business team that helps acquire sponsorships.  Intrested students can talk to Ms. Guderyon or listen to announcements next year for meeting times and more information.