The Chicago/Midwest Student Television Award goes to…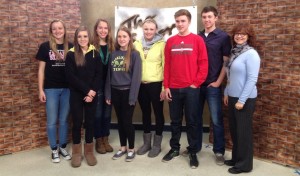 Recently, seven video production students found out that they have won the Chicago/Midwest Student Television Awards, presented by the producers of the Chicago/Midwest Emmy Awards. This was the first time Franklin has entered the competition and students were surprised to find out that they won 3 of the 11 categories competing against large Chicago schools with extensive video departments. First place was won by Julia Mutronowski, Anna Wozniewicz, and Nicole McCammon in Photography and Public Service Announcements & Arts. Tara Thiessen, Paige Pierzchalski, Joe Kirkegaard, and Alex Henry will also be recognized with honorable mentions  in Public Service Announcements & Arts.
The students and Mrs. DeClark, the video production teacher, will attend the Silver Circle Honors dinner on Friday, May 9th at the Knickerbocker Hotel in downtown Chicago. At the dinner the students will be recognized and the winners will receive Crystal Pillars for the school to display.
All of the students are excited for the dinner and to have been acknowledged. "I didn't expect to win anything", Nicole explains. "I just put in the video, but I really did not think anything would have come out of it. It didn't seem real".