Visual Arts Classic Team on Their Way to State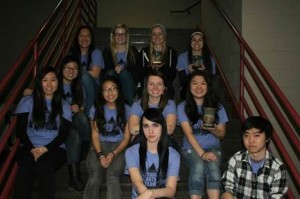 On March 7th, the Franklin High School Visual Arts team headed off to Cardinal Stritch University to compete in the Regional Visual Arts Classic competition. The eleven-member team led by Mrs. Bausch consisted of Jamie Bang, Teddy Bang, Julia Galipo, Dani Lodge, Chloe Park, Hien Pham, Amanda Phil, Naomi Scheel, Katie Theel, Anna Wozniewicz, and Katie Yun.
The team won overall second place out of the four competing schools with seven of its members heading to state for their individual projects. Dani Lodge will be competing in both the long-term and on-site categories for ceramics. Julia Galipo will also be competing in ceramics for the long-term. Hien Pham and Katie Theel will both be participating in the on-site digital photography category and Katie Theel will also be competing with her long-term project. Naomi Scheel will be participating in the on-site traditional photography category. Anna Wozniewicz will be a competitor in the long-term and on-site portions for the media of video. Lastly, Katie Yun will be competing in the on-site portion for printmaking. The team also placed first for the Quiz Bowl portion of the competition and will be competing at state.
The state competition will be on Friday the 11th of April at Edgewood College in Madison. Wish the art team luck!!