Being Divergent… and Spoiler Free!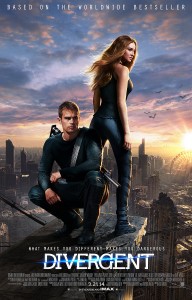 There is a new movie series taking the world by storm.  Some people are even saying that it is as good as the Hunger Games.  Divergent is based on the number one New York Times Bestselling book written by Veronica Roth.  She wrote the series as well as sold the story to be produced into a movie all before graduating from Northwestern University.  The trilogy is widely popular among young adults with its most recent book, Allegiant, released October of 2013.
Divergent takes place in post-apocalyptic Chicago, Illinois, where order has been restored by separating the people into five distinct factions.  Each faction has an opinion of why the world ended up the way it did, including lack of knowledge, cowardice, dishonesty, selfishness, and negative behavior towards one another.
At the end of the school year, when students are 16 years old, they are given a test which determines which faction they belong in.  After this, the students are given the choice to decide whether they would like to remain with their families or abandon them for a new life.  The test results which are found are just a discussion to what they should choose; however the decision is ultimately up to the individual.  The novel follows a girl named Beatrice Prior and her decisions, when she is given an unexpected result on her test.  This leads to unusual events that slowly unfold, causing trouble.
From my perspective, the movie was very impressive.  The action was intense, the emotions were raw and impactful, and, from what I've been told, the characters played up to their parts in both their acting and their appearance.  I would definitely recommend the movie by itself.   However, those who have read the book before watching the movie have had complaints about some of the main details of the book not matching those in the movie… I am one of them.  Example number one: Beatrice Prior according to the book had blonde hair, however in the movie?  Well, let's just say it doesn't match.  That is just one of the many differences.  Like I said before, thought, the movie alone is a great film and I would highly recommend seeing it.