Franklin's First Indian Restaurant: Opening Soon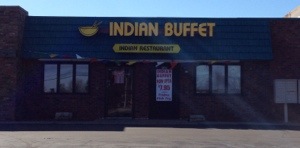 Franklin is getting a new dining option this March with the opening of the Indian Buffet and Restaurant.  This new restaurant will be the first and is currently the only source for authentic Indian food in Franklin.  The restaurant has opened this March at the Franklin Village Shopping Center, at the intersection of 76th Street and Rawson Avenue, the old location of China Express. Franklin High School students we benefit greatly because they will be able to go and get their Indian food with a 15 to 20 percent discount on the two-person meal $24.99 regular price.  The discount at the moment is ongoing, and will be given to any FHS student who brings their FHS I.D.
Jagdish Patel, the owner of the restaurant, spoke in detail about his wish to move an Indian restaurant to Franklin.  He is optimistic about the great opportunity Franklin's community poses for the opening of an Indian restaurant, and the authentic Indian food he will be serving.  Starting as a hobby, Jagdish began to experiment and cook with the exotic ingredients needed for different Indian dishes, branching off from his original career of Computer Engineering.   The unique types of Indian food and their ingredients, such as curry powder and cumin seeds, he informed, are liked by a multitude of people for their many health benefits (besides their appetizing taste).
The Indian Buffet and Restaurant has opened this March, with hours from 10 a.m. to 10 p.m., and a buffet open for the majority of the day. The buffet will start in the morning, with a set price for an unlimited amount of the approximately twenty different dishes being served.  At 4 p.m., dinner will start to be served, with many dishes and ordering options.  People are free to come in to dine, or order 'to-go', either way experiencing the new renovations made to create an atmosphere promoting authentic Indian food, in both the dining area and kitchen.
Jagdish's enthusiasm points towards a great new opportunity for the whole Franklin community to experience new food and culture, expressing about himself and coworkers: "We are very authentic people."  Franklin High School students, especially, have a chance to explore Indian culture and enjoy themselves, at a discounted price.  Even if you're unsure about whether or not you will like this new experience, there's little to be lost from the new adventure.  As Jagdish said, "feel free to come down here and try our food", "we will make sure that you will be happy."