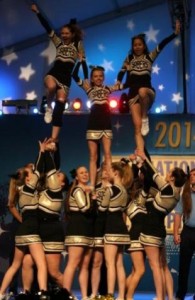 They're bringing it on. On the way to the National cheer competition that is. Recently, the Franklin Sabers Cheer team competed at the United States High School National Cheerleading competition for the first time in school history! The Saber cheerleaders have overcome great obstacles emotionally and physically to make such an outstanding accomplishment.
Their journey began at the Milwaukee regional competition, which took place in early December. The routines they performed awarded them enough points to earn themselves an opportunity to cheer at the national competition at the Walt Disney World Resort in Orlando, Florida. Even though their coach was hesitant at first for the team to compete, with a lot of persuading and hard work, the girls were able to convince their coach and prove that they were national championship contenders.
Emotions filled the team, as they would get the once and a lifetime opportunity to perform on the grandest stage of all. Of course their excitement was offset by anxiety since they would have to compete against top schools from all across the United States. Specifically the small varsity schools, which are known to be the most competitive. However, the girls were able to overcome their butterflies, go out, and have fun.
This was the first time the cheerleaders have qualified for the National Competition and for some it may be the last, especially for the seniors, Kimberly Wroblewski and Sarah Van Cleave. "I think what I'll miss most are the football games and competitions" they said when asked about their feelings now that their high school cheer careers are coming to a close. "It was an amazing experience, especially with nationals. We weren't supposed to make it, but we worked hard and kept trying and finally did".  This just goes to show that anything is possible. For a team that was not meant to make it to the grand stage, these girl definitely worked hard, bringing the competition to a whole new level.