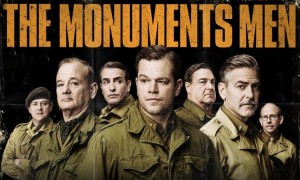 This past weekend featured a few major blockbusters for moviegoers of all kinds – Vampire Academy for teenage fangirls and The LEGO Movie for the young-at-heart to name a few.  But The Monuments Men, a historical film directed by George Clooney, brought a bit of the 1940's to the silver screen last Friday.
The Monuments Men, a star-studded film featuring Matt Damon, George Clooney, Bill Murray and Cate Blanchett, documented the story of a group of soldiers who attempted to find and protect pieces of stolen art during the last stages of World War II.  According to Frank Stokes, the organizer of the so-called "monuments men", this effort would prevent Hitler from taking away the one thing that they could always call their own – their culture and achievments.  This argument eventually convinced Franklin D. Roosevelt to approve the project in 1942, ultimately saving hundreds of pieces of art from destruction.
This film was great if you have a mild interest in history and some like-minded friends, but might fall short for casual viewers or serious history buffs.  The storyline, while intriguing, seemed jumbled and disjointed, and certain plot points and characters were promising but underdeveloped.  Many details were inaccurate as well – for example, at one point the song Have Yourself a Merry Little Christmas was sung with lyrics that weren't added until 1957, over ten years after the story's time.  The way the men worked in the movie – together as a group or in pairs – is incorrect, as most of the real monuments men worked alone, and there were hundreds of them as compared to the eight who appeared in the film.  But perhaps this can be overlooked, as the interaction of the soldiers allowed for some plot development and let the talent of the actors come through, making the movie much more enjoyable.
One thing the film did do well was give a general overview and raise awareness of the work that these men did to preserve our culture during a time when everyone else was too busy to think about art.  While the movie itself might have undersold the real work of the monuments men, it has inspired a renewed interest in finding the thousands of pieces of stolen art that have yet to be recovered.  Also a petition started ( http://www.monumentsmenfoundation.org/the-heroes/congressional-gold-medal ) to award the original monuments men the Congressional Gold Medal in recognition of their service.  In short, the overall message this film tries to send home about the importance of appreciating the past and preserving the future instead of just winning the current battle made The Monuments Men a movie that is definitely worth watching.