Mock Trial: REGIONAL CHAMPS!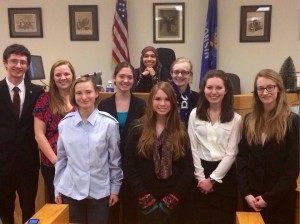 For the first time in Franklin High School's history, our Mock Trial team, led by Mr. Kania, won the regional competition on February 8, 2014.  The team will compete in March at the state level held in Madison, WI.
In preparation for regionals, our Mock Trial team, consisting of 9 members, spent the last several months studying the case materials.  The fictional court case concerns a supposedly negligent driver and pedestrian failing to exercise ordinary care when crossing a street.
Franklin competed at the Racine County Court House against Oak Creek, Whitnall, Christian Life, and Waterford.  The team had to conduct four trials: 2 defenses and 2 plaintiffs against an opposing team.  With each side consisting of three attorneys and three witnesses, the Mock Trial team conducted opening statements, direct and cross examinations, and closing statements to professional attorneys and judges.  In order to advance to the state level of Mock Trial, teams had to "win" all four trials.  Each witness and attorney was scored individually by 3 judges, creating the final score for the team.
After ten hours of competing, the results were announced.  Franklin won all four of the trials, receiving multiple perfect scores for the witnesses and attorneys.
Congratulations to all team members, including: Aniya Maheen, Erin Neuhengen, Colin Williams, Katie Powers, Megan Davis, Maya Gruenberg, Tricia Moore, Keila LaBelle, and Hannah Dix.  Good luck at STATE in March!