FHS Wrestling Team Triumphs Over Tremper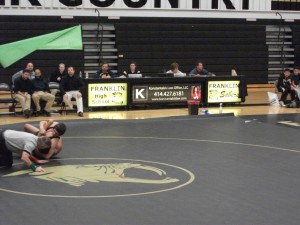 On Thursday, December 16, the FHS varsity wrestling team defeated the Kenosha Tremper Trojans with a final score of 45-27.
The meet started out with Tremper winning 0-9, however with 7 individual wins for Franklin by fall and 3 wins by decision, Franklin pulled ahead to win.
Xianiou Xiong, John Xiong, Matt Hoppe, Joel Bonney, Steven Djurina, Brian Lacina, and Gavin Devine won their matches by fall.
The team is currently placed third in conference standings.
The Sabers will be having another home wrestling meet on Thursday, January 30th at 7:00 in the FHS gym. Be sure to come and support them!
Good luck to the team in the rest of their season!