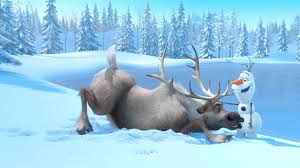 The new movie from Disney, Frozen, has been a huge success. This is the story of two sisters who are princesses, Elsa (Idina Menzel) and Anna (Kristen Bell). After running away, Elsa has trapped the kingdom in an infinite winter with her powers which were meant to be hidden after a poorly aimed bolt of ice hit her sister when they were young. Her sister Anna goes on a journey in blizzard-like conditions to find Elsa who has run away because the town has found out about her. On her way up the mountain, she meets a man named Kristoff (Jonathan Groff) and a comical snowman named Olaf (Josh Gad). With them, they reach Elsa and are ultimately turned away. Elsa strikes her sister, accidentally in the heart with a bolt of ice.  The only cure to this is an act of true love.  Anna goes back down the mountain in an adventure to remember.  This part of the movie is very intense as it builds up suspense until the unpredictable plot twist ending.
This movie quickly rose to the top of the charts with the adorable characters.  Frozen also has won the Golden-Globe award and is rated number 7 on the list of top animation movies.  It has also surpassed $700 million mark globally and is the fourth largest grossing non-sequel animated film of all time.  The song, "Let it Go" sung by Idina Menzel has been nominated for a Golden Globe Award under the category of  Best Original Song.
Frozen is an enjoyable movie for all ages and especially good for families.  It was very heartwarming and shows the power of true love. It teaches good lessons like choosing family over love and overall was a really great movie to sit back and relax to. The songs sung in this movie are catchy and have a strong meaning. The focus of the movie is not really romantic love, but the sisterly kind of love which makes the movie worth watching.  Definitely a 5/5 stars.