TV Tech Guest Speaker: Lance Allan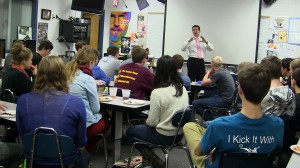 Lance Allan, Sports Anchor from WTMJ-4 talked with the students of The Saber Roar, the FHS Newscast, and The Saber Slate, the FHS online newspaper.  He spoke about the current state of news and sports, how he got his start and gave them advice on how to get work in the industry.  The students in turn shared their video work and asked for his feedback.
He had many positive words of encouragement.  Lance's message to the students was to always work hard, be your own toughest critic on improving your work and share with others what you want to do so they can help you get there.  As a token of thanks, the students gave Lance the first official Saber Roar Super Fan tee shirt.
The tee shirts are available for purchase from a Saber Roar student or Mrs. DeClark in Room 249, TV Tech for $12.