Student Spotlight: Meet Lauren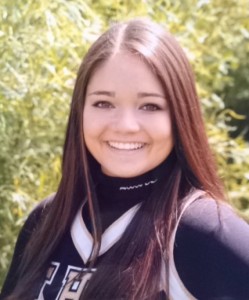 Meet Lauren, a junior at Franklin who works hard inside and outside the classroom. You may know her from poms or from her recent performance in New York City with her dance team in the Macy's Thanksgiving Day Parade. Besides dance and poms Lauren is also in National Honor Society, Key Club, and Student Senate.  She loves being involved because she is, "able to help people and make the community and school a better place".
Mara: How many years have you been dancing?
Lauren: "I have been dancing since I was three, which is now 14 years at Next Step Dance Studio. I had no clue that standing in a dance class having no clue what I was doing 14 years ago would lead me to where I am in my dance career today!"
Mara: What is your favorite type of dance and why?
Lauren: "My favorite type of dance is between jazz and lyrical. I love jazz because it's upbeat and fun but at the same time I love lyrical because it allows you to bring out your emotion and express yourself. Overall any type of dance is great because you're able to tell a story without using words, which is really special and different."
Mara: What was it like to perform in the Macy's Thanksgiving Day Parade?
Lauren: "Performing in the Macy's Thanksgiving Day Parade was a life changing experience that I will never forget. The rehearsals were long and hard, but when it got time to the parade, it was all worth it. I may have lost some feeling in my body because of the cold, but seeing the smiles on people's faces as you walk by and smile and wave back, it's something special that you only get to experience a couple times in your life!"
Mara: How has poms impacted your life?
Lauren: "Poms has impacted my life in so many positive ways. Many people don't see this, but poms teaches you a lot of life lessons that you can carry on throughout life. Teamwork is obviously a huge factor of being on a team, without working together nothing would get accomplished. Poms has also taught me the role of being a leader. As junior captain I have a huge leadership role in leading the team and being someone they can rely on, but also someone that they know will listen to them and help them. My coach is a huge part of my pom life, and something I've learned from her is how to be a responsible and well rounded person. She is so determined and has worked so hard to get to where she is and I look up to her for that."
Mara: Speaking of impact, who is your role model who has impacted your life?
Lauren: "One of my biggest role models is definitely my mom. She is the best person in the world to me. My mom would bend over backward to do anything for me as long as it makes me happy. She's easy to talk to, a great listener, and she is always there to give me advice whether I want it or not. Overall she makes me want to be a better person, and when I grow up I want to be the kind of person she is; someone who is kind, loving, passionate, and determined."
Mara: You are extremely busy, what do you enjoy doing in your free time?
Lauren: "With poms, dance, school, and homework, free time doesn't come often for me. In the free time I do get I love spending it with my friends. When I get to hang out with my friends I always have the best time because we always think of something fun to do. Anytime I can I always try and leave time for my family too because they are the most important people in my life."
Mara: What are you looking forward to in senior year?
Lauren: "I am looking forward to spending my last year of high school in the best possible way. I want to accomplish and experience so many things before I take another step forward in my future. The thing I can't wait the most for is free block! Getting a break throughout the day is going to be the best."
Mara: Do you have any idea what you want to do after high school?
Lauren: "I absolutely have no idea! I have so many interests that I cannot decide on what I want to do for the rest of my life! It's a scary thought thinking that one decision could plan out the rest of your life! I know I want to major in some sort of business because I love working with people. All I do is talk, and talk, and talk, as my family and friends tell me, so working with people is a huge factor in what I want to do in the future."
Mara: Is there anything else you want your classmates to know about you?
Lauren: "I want them to know that I would love to meet them! I see a new person everyday at school that I have never seen before, which is really sad when you think about it! Making new friends has probably been the best part of high school, so embrace it!"