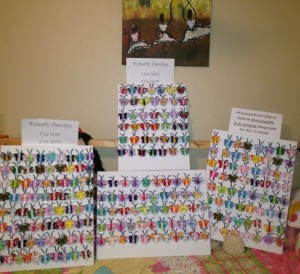 Kayla's Krew is an organization based upon a little girl named Kayla who had cerebral palsy, whose disability has resulted in the idea for an all-accessible playground where both disabled and non-disabled children can play together. Various fundraisers have been in effect, and out of the $400,000 which needs to be raised, the program already has $55,496.53.
Earlier this year, there was a "Blackout" football game at Greendale High School, where both sides wore black in honor of Kayla. All proceeds from the game, as well as the sales of t-shirts, were donated to Kayla's Krew. Many people from both high schools participated in this event.
If you missed out on the great opportunity to help a good cause, there is another chance. On Friday, December 20th, there will be a home basketball game against Oak Creek similar to the Blackout. The proceeds will go to support Kayla's Krew, and the butterfly clips and other Kayla's Krew merchandise will be available for sale.
As their mission statement emphasizes, the organization's goal is, "To build an all-accessible, all-inclusive playground in Franklin, Wisconsin that is inspiring and truly all-accessible for all children and families of any age and ability. As Kayla's Krew our goal is to provide a common ground to enrich social skills through play, create friendships for a lifetime and promote Peer Advocacy programs through collaboration with community partners. Simply, Honestly and Purely."
So if you are not busy on December 20th, and want an opportunity to spend time with your friends while helping a great cause, come to the basketball game and support Kayla's Krew.
For more information, visit http://kaylaskrew.org/, or "like" the page on Facebook.
Kayla's Krew also featured on the local news recently. View the story at: http://www.cbs58.com/features/making-milwaukee-great/Kaylas-Krew-has-vision-for-a-playground-for-kids-of-all-abilities-227528031.html