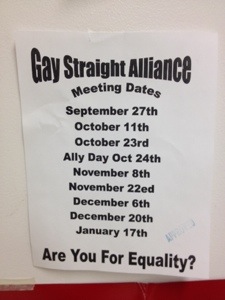 Franklin High School offers countless different clubs and activities for students to take part in, one of which is Gay Straight Alliance. Gay Straight Alliance is described by president, Celeste Keith as being a club that, "brings together people of any sexual orientation: straight, gay, bisexual, lesbian, etc, to promote their acceptance and equality in school and society."
The club is based around anti-bullying so everyone is welcome! The meetings are held every other Friday during resource in Mrs Adelmann's room. If interested, the next meeting will be held on Friday November 22nd. Other meeting dates can be found on various posters around the school.
Recently the club has taken an initiative to stop bullying by having Ally Day, a time when students wear duct tape to help show your support for individuals of different sexual orientation.
Celeste Keith describes the duct tape as being, "a novel way to get people to notice this issue, and to easily show their support that they are an ally against bullying." She goes on to mention that Ally Day helps connect the school and make the school feel like a safer and more comfortable for people of all sexual orientations.
Ally Day was a huge success and was great to see FHS come together to help stop bullying. To join the club to stop sexual orientation bullying all you have to do is follow Celeste's words of wisdom: "treat everyone with the respect, equality, and kindness they deserve, no matter their sexual orientation." If you are willing or want to do this, then Gay Straight Alliance is the club for you!